If you've ever been on a holiday to New York or Tokyo, or even sat in the driver's seat of a Fiat 500, you'll know exactly what I mean when I say that small doesn't always mean cramped. The same design principles that make a small apartment feel impossibly roomy can be applied to compact bathrooms.
Let's be honest, nobody wants to start or end their day feeling like they're showering in a shoebox! If you're anything like me, that's where all your good ideas happen. So it makes sense that you'd want to put some thought into how you can maximise the space you have so it's somewhere you absolutely love being.
Wall-hung vanity
These are great for small bathrooms as they trick the eye into believing there's more space because you see more of the floor area. We usually raise our vanities about 300mm off the floor to give a 'floating' effect.
Another smart move is to chase the basin waste into the wall. If you don't, the waste pipe will be visible… and THAT would ruin the overall feel.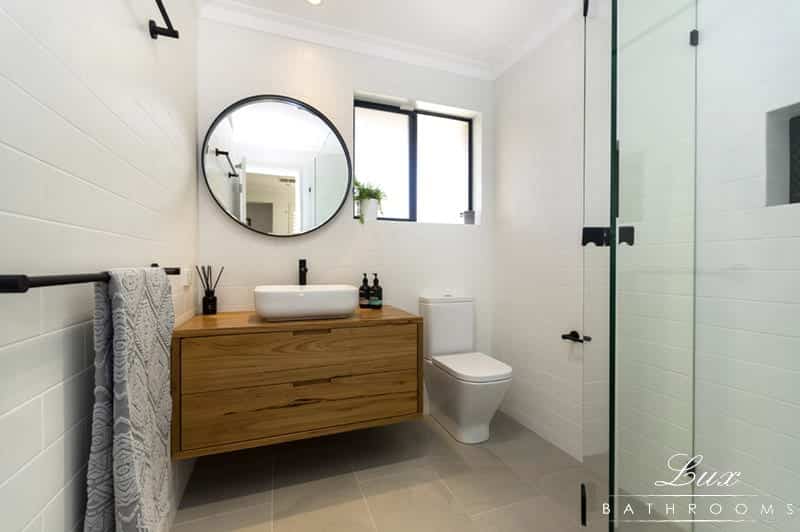 Open shower
There's little else that feels more luxurious than having a walk-in, open shower. No stepping, no clingy shower curtains and no big swinging doors – incredible! Open showers are the ultimate space saver, because they only require one fixed panel and have no raised edges, giving you more room to move. Or sing.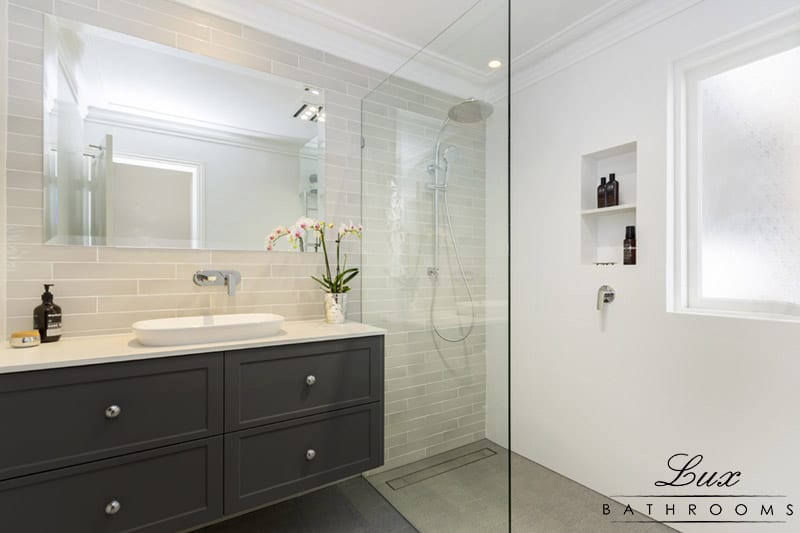 In-wall cistern toilet
The in-wall cistern toilet is a meditation in minimalism – giving you only what you need and nothing you don't. Unlike a standard toilet/cistern combo, which projects about 650-700mm from the wall, an in-wall cistern reduces that footprint to approximately 500-550mm. That's a space saving of 100-150mm!
Considering this simple and minimalistic practice only costs around $800-1200 extra, it's a must for anyone wanting to maximise the space in their small bathroom.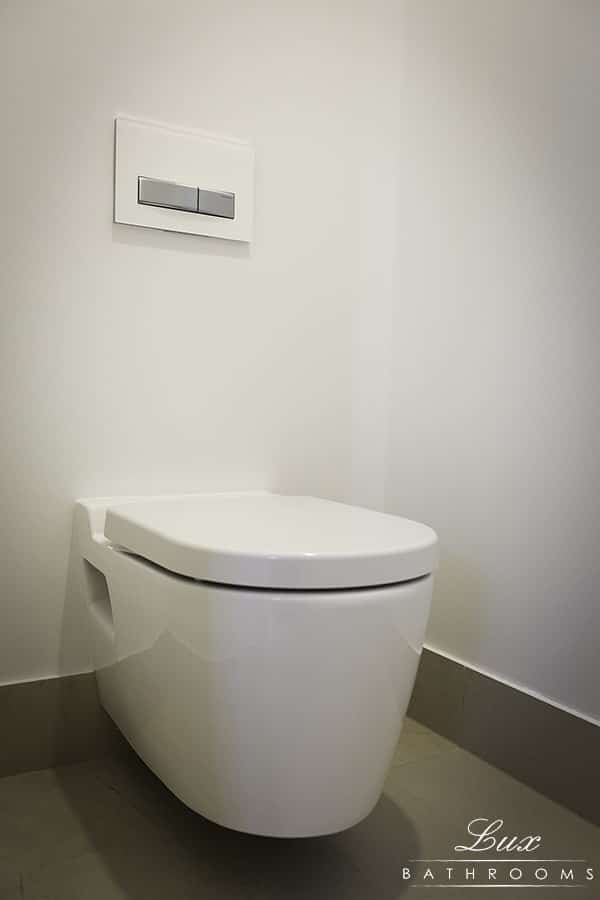 Wall-mounted basin mixer
The math on wall-mounted basin mixer is simple. Traditional taps or mixers are usually mounted on the basin or bench top, which makes the vanity's footprint deeper. By mounting the tap or mixer on the wall, it's easier to clean and provides around 100mm of extra room! Every little bit counts, trust me.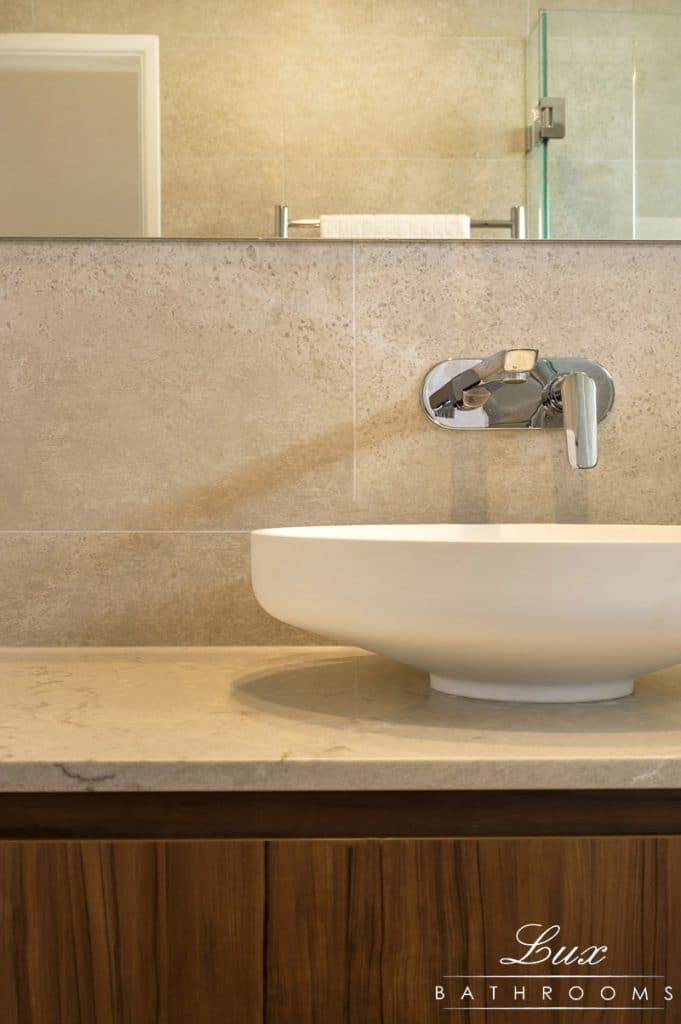 Mirrored cabinet & wall-mounted cabinets
Extra storage in your bathroom is always nice, so if you feel like you need a little more than your vanity can provide, a mirrored cabinet is the perfect option for additional hidden storage. Mirrored cabinets are quite narrowed and are suited for small items like toothbrushes, shavers, makeup, etc. Plus, because they have a mirror, it tricks the eye into believing there is more space.
Larger mirror
It worked for the master illusionist Houdini, and it will work for your bathroom. Using a large mirror gives the illusion of more space. Our preferred orientations include extending the mirror higher towards the ceiling and longer over the bath or toilet. Plus, it will help reflect more light which really opens the space up!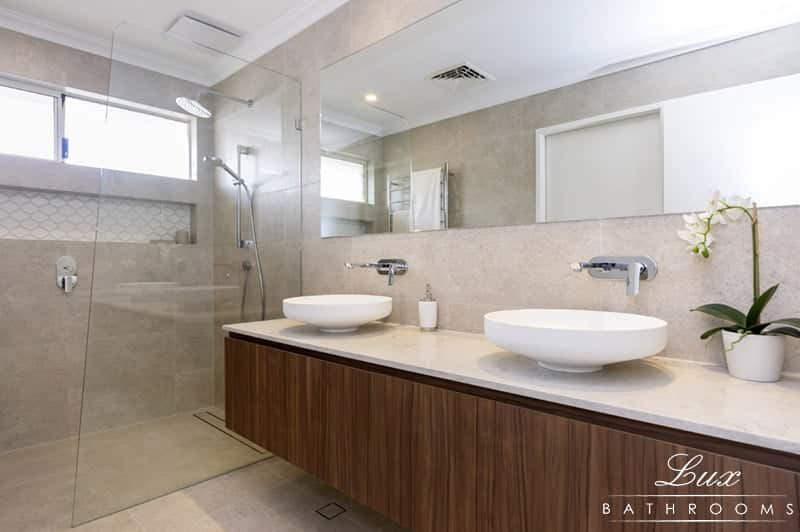 Feature Wall
Interior designers have been using this clever decor strategy to open up small spaces for decades. By using pale shades on the walls, they're able to make a room seem bigger and brighter. Their pièce de résistance is a splash of colour on a feature wall which helps to lengthen the room. Remember: light-coloured walls will help you maximise the effect natural light has on the area!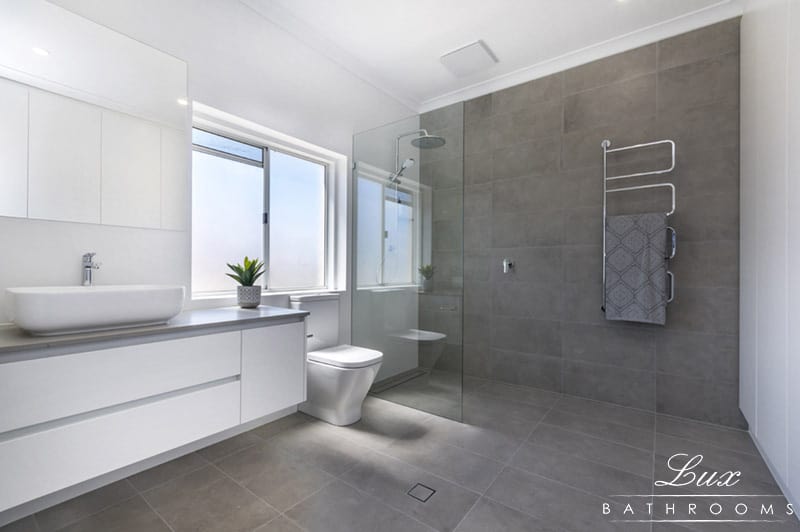 Remove windows and install a skylight
This change gains usable wall space and creates a bright room with lots of natural light coming through. Because we have a building license we can determine if your ceiling can be raised with the inclusion of a skylight. Having your ceilings raised also makes the room feel spacious and open. Placing the skylight over the shower elevates the space and provides plenty of light.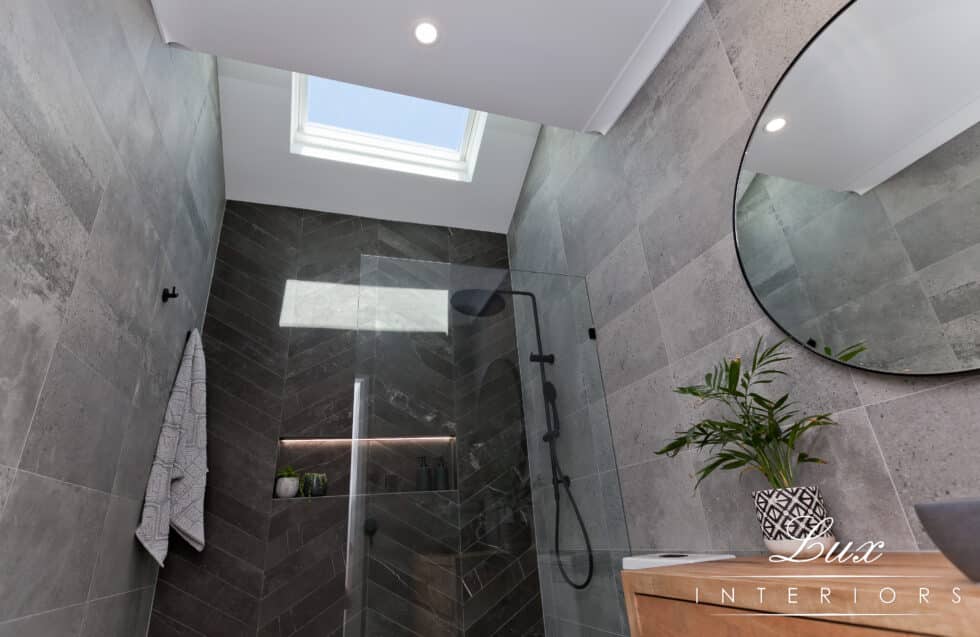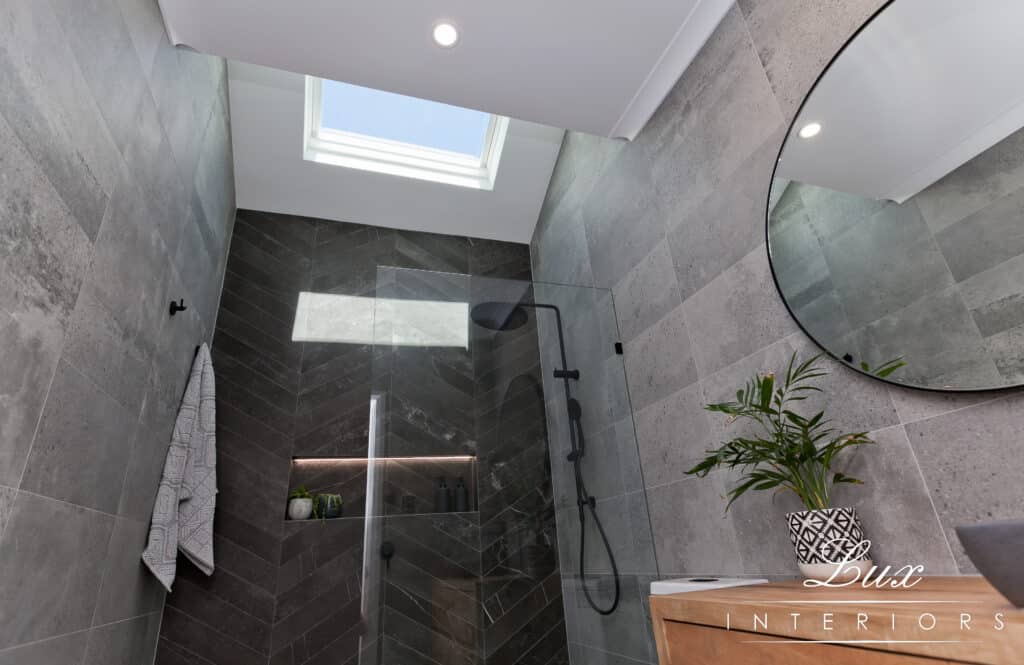 Add a wall recess in the shower
Wall recesses are great storage solutions for small items. They're not intrusive and provide just that bit of extra showering space. Wall recesses can be tiled in the same tile as the shower wall (blending into the design), or, can be tiled differently as a feature.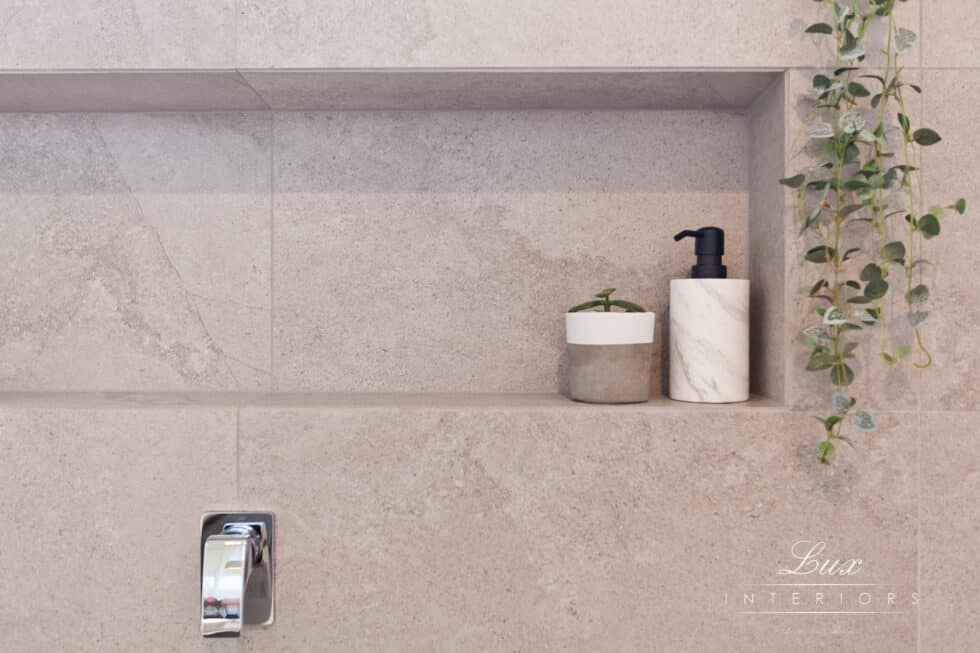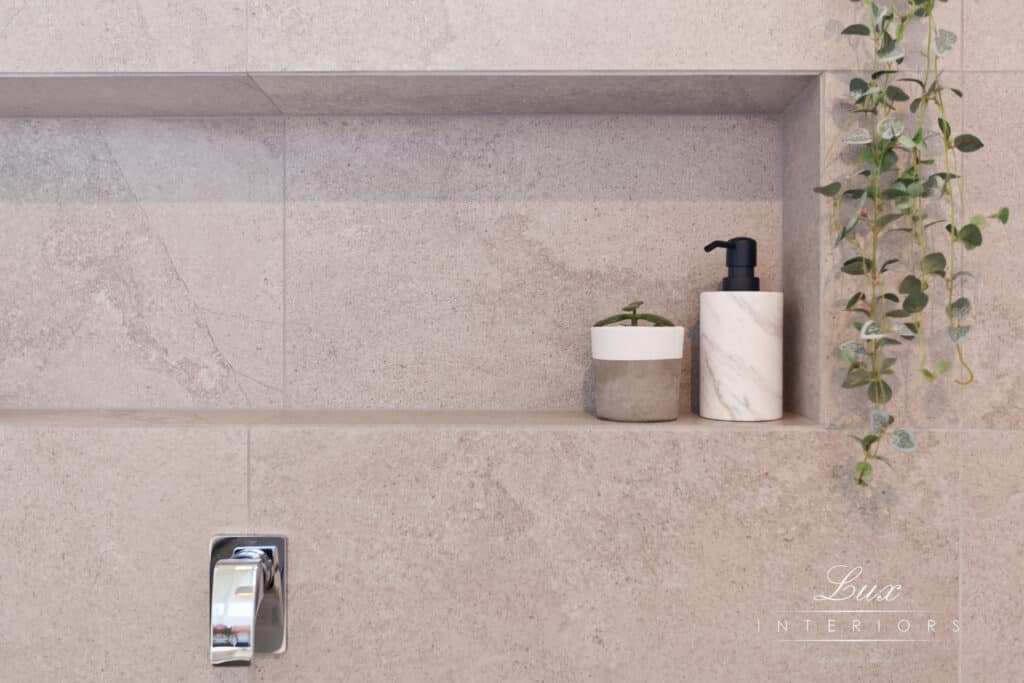 If you're interested in discussing your bathroom designs with our interior designers contact us today!