Luxury Apartment Renovations
If you're looking to renovate your apartment, you've come to the place. Our interior designers and renovators are experts at maximising the potential of apartment units—and working with their unique constraints—to transform your living space into a bespoke, luxury home. 
As one of the only interior design companies in Perth with in-house, licensed builders, we can make changes to your apartment that others would consider impossible. We can guide you through the required approval processes, ensuring any renovations are approved and in line with the required building certifications and strata obligations.
Lux Interiors is Perfect For Your Apartment Renovation
Lux Interiors is unique, offering luxury apartment renovation across Perth, with in-house capabilities to deliver your project from concept to completion to the highest quality.
Lux Interiors engages with Perth's finest craftsmen, we ensure our desire for perfection and passion for unique design detailing ensures a refined luxury renovation, backed by our warranty on workmanship.
Lux Interiors ensures a streamlined renovation. The process usually takes 6 – 9 months to complete. A good guide is to allow 4 months for design & ordering and 4 months for the onsite renovation. This timeframe is dependent on the size of your renovation and our current project pipeline. Your project timing will be determined in the scheduling phase, giving you ample time to plan ahead.
Lux Interiors respects your strata by-laws and neighbours, ensuring to follow your apartment building's requirements. Careful consideration is given to on-site parking availability for contractors and delivery drivers, application for traffic control for deliveries, lift access for goods & services, renovation waste, mains access, hours of operation and acoustic requirements.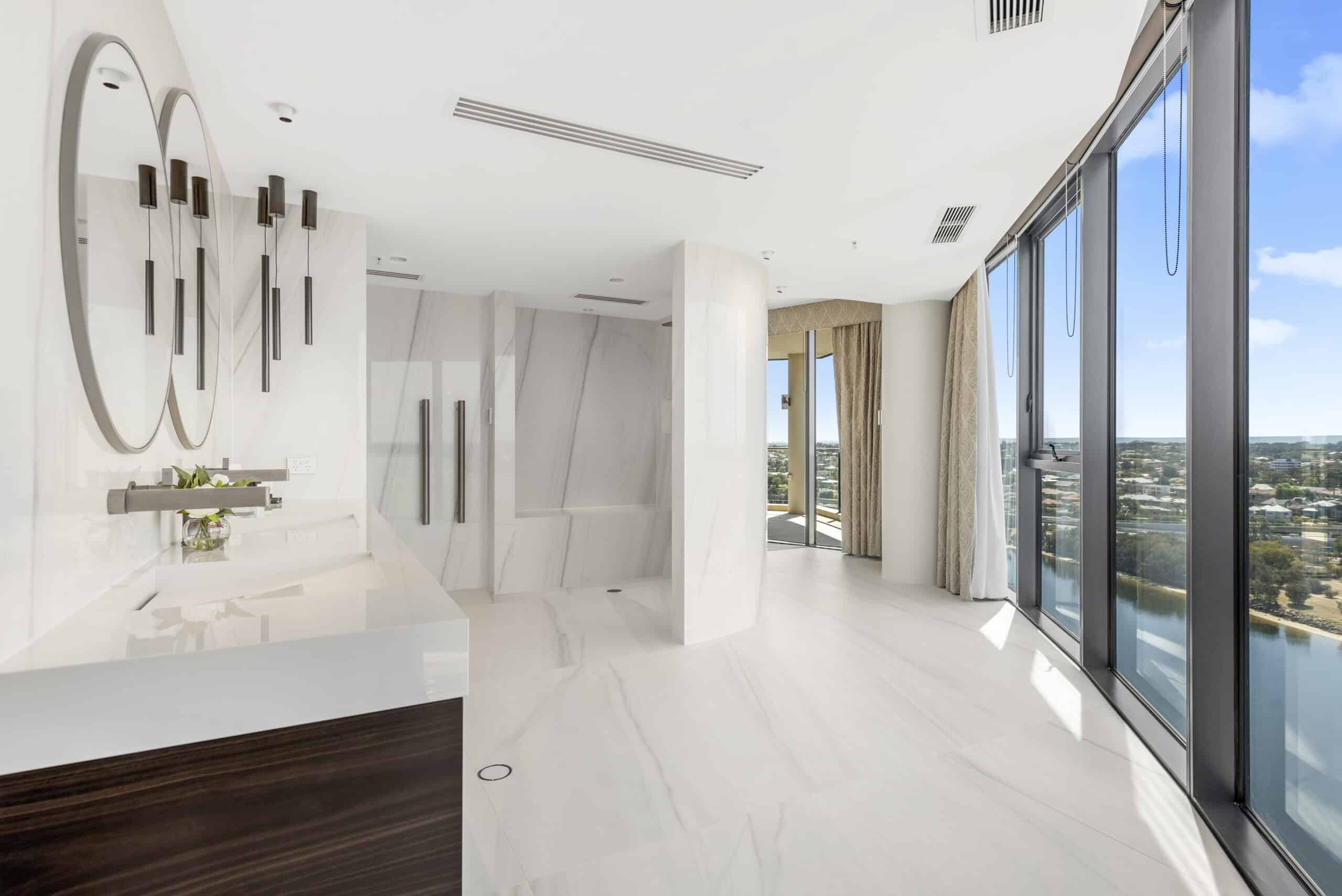 KEY FACTORS TO CONSIDER WHEN RENOVATING YOUR APARTMENT
Budget: Determine an accessible budget for your renovation project. Your designer will utilise your budget to guide and prioritise your design choices, assisting you to make decisions that align with your financial capabilities.
Design Concept: Think about the style and atmosphere you want to create in your apartment. Consider factors such as colour scheme, furniture arrangement and bespoke cabinetry, lighting, and overall aesthetics. You can work with our designers to develop a cohesive design concept that suits your preferences.
Space Optimisation: Apartments often have limited space, so it's crucial to make the most of what you have. Consider multifunctional furniture, smart storage space, and other space-saving solutions to maximise your living area. Our interior designers will assist you to create functional spaces that work effectively with your lifestyle and needs.
Compliance and Approvals: We ensure your renovation adheres to local building codes, certifications, and strata obligations. Approvals for your renovation are included in the design aspect of your project.
Lighting and Ventilation: Adequate lighting and ventilation can significantly enhance the ambience and comfort of your apartment. Our designers will explore options such as natural lighting, artificial lighting fixtures, and ventilation systems during the design phase to create a pleasant living environment.
Sustainable Solutions: Consider incorporating environmentally friendly elements into your renovation. This could include energy-efficient appliances, sustainable materials, and smart home technologies that help reduce energy consumption.
Make It Yours: Renovating requires countless decisions. Ensure to infuse your personal style and preferences into the design. Whether it's through artwork, decor, or furniture choices, adding personal touches will make your apartment feel like a home. Our designers will respect your personal aesthetics and guide the decision-making process to ensure your renovation is a reflection of you and how you choose to live.
Engaging LUX INTERIORS – interior designers and licensed builders – will ensure you are provided with expert advice tailored to your specific apartment and renovation goals. We will help you navigate the renovation process, ensure compliance and bring your vision to life.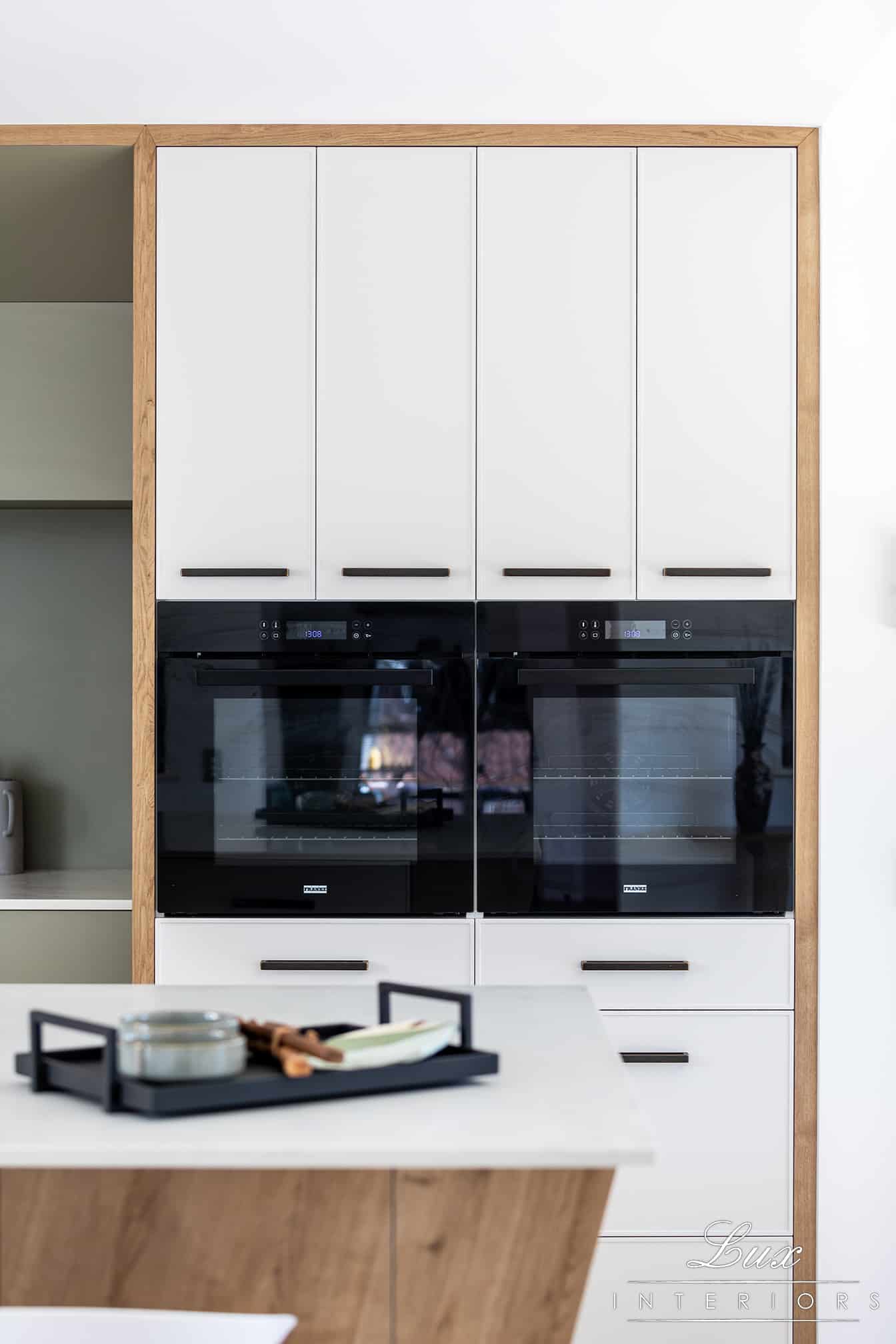 The Apartment Renovation Process
Pre-Design
Initial Design Consult

– 30-minute chat to determine your scope and discuss your budget.

Design Fee Proposal

– includes a project scope outline, an assessed budget and the design fee.

Approval

– you approve the online proposal, receive your design fee invoice by email and make payment. Once we receive payment we can start your project.
Programming
Schedule

– we develop a project schedule to guide the apartment design process.

Budget

– we develop a detailed budget that guides the design process to ensure we reach our targets. 

Site Analysis

– we visit your home to take critical measurements, capture photos and discuss your brief further.
Development
Schematics

– we develop in collaboration with you a layout for your renovation based on your brief and further information provided. We present the layout for your feedback and approval.

Style Analysis

– in collaboration we define the style and aesthetic for your project.

Concept

–

we develop concepts for each area of your renovation. These are presented online as a 3D white box model for your feedback.

Selections –

we guide you to select all the necessary fixtures, fittings and finishes for your project.
Documentation
Working Drawings

– our documentation is thorough and accounts for all requirements for your renovation. It includes Floor plans – layouts and floor finishes, Cabinetry Drawings – plans, elevations, sections and details. Electrical and plumbing layouts are carefully considered and recorded.

Specification Schedule

– this document records all the necessary information needed for ordering and installation. It is read in conjunction with the working drawings. We meet with you to review the final design, quote, and schedule

3D Images

– we provide photo-realistic renders of the major areas of your renovation so you know what to expect.

Approvals

– we arrange for all necessary approvals – council, strata & engineering.
Project Admin
Pricing

– we send off and collate all the necessary pricing for your apartment renovation. 

Renovation Contract –

our build team develops a fixed-price contract for your project.

Approval

– once you've approved the contract we set up a meeting to schedule your renovation and sign the contract.
Apartment Renovation
Demo and strip out

– walls, doors, windows, cabinetry, flooring, fittings & fixtures

Building modifications

– new walls, nib & niches, wall linings, ceilings, windows & doors

Install new materials

– flooring, painting, cabinetry, plumbing & electrics,

Clean

– thorough cleaning of all surfaces.

Furniture installation –

ordered furniture placed and styled.

Handover – thorough check of your renovation by designer & builder.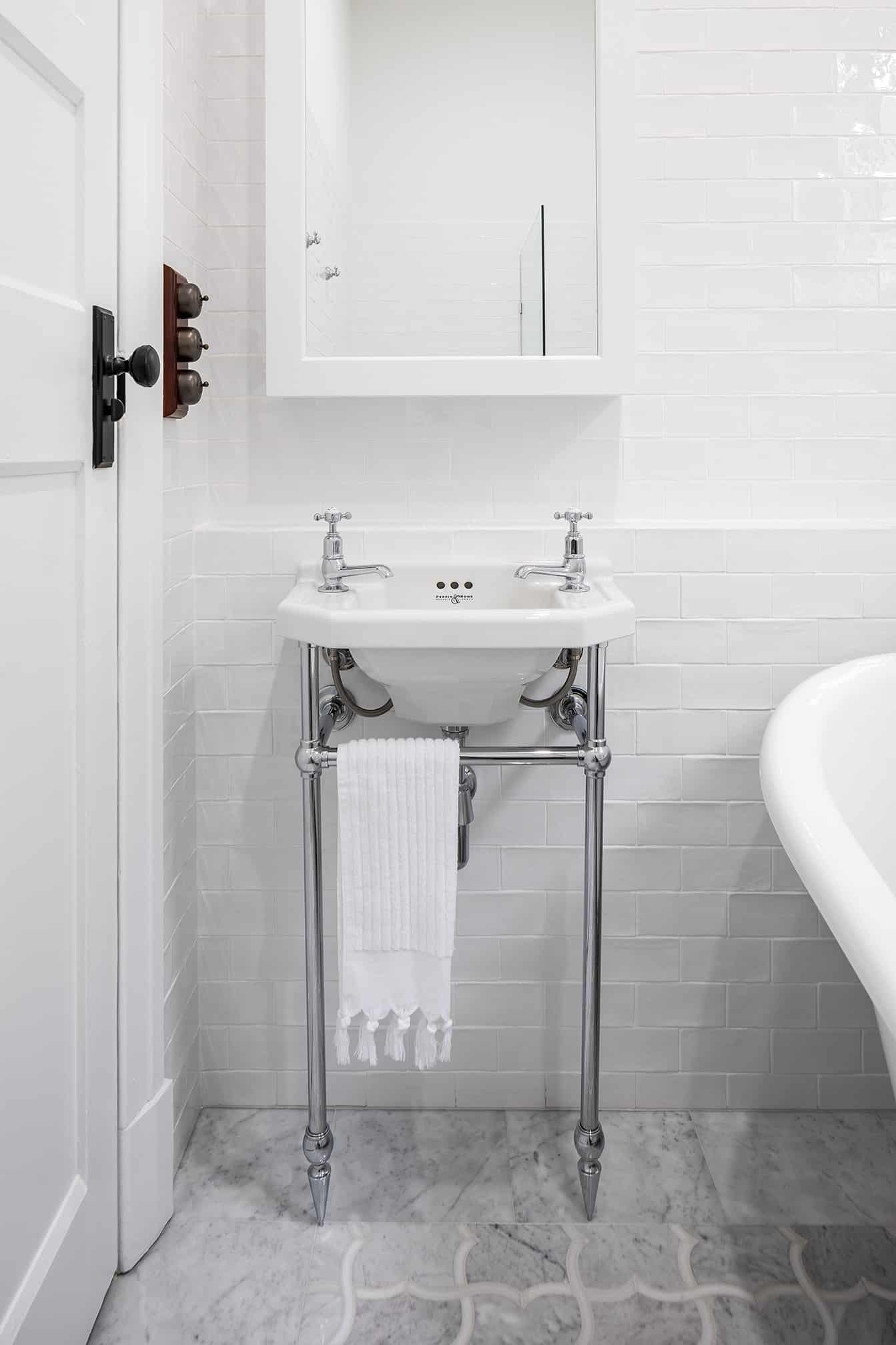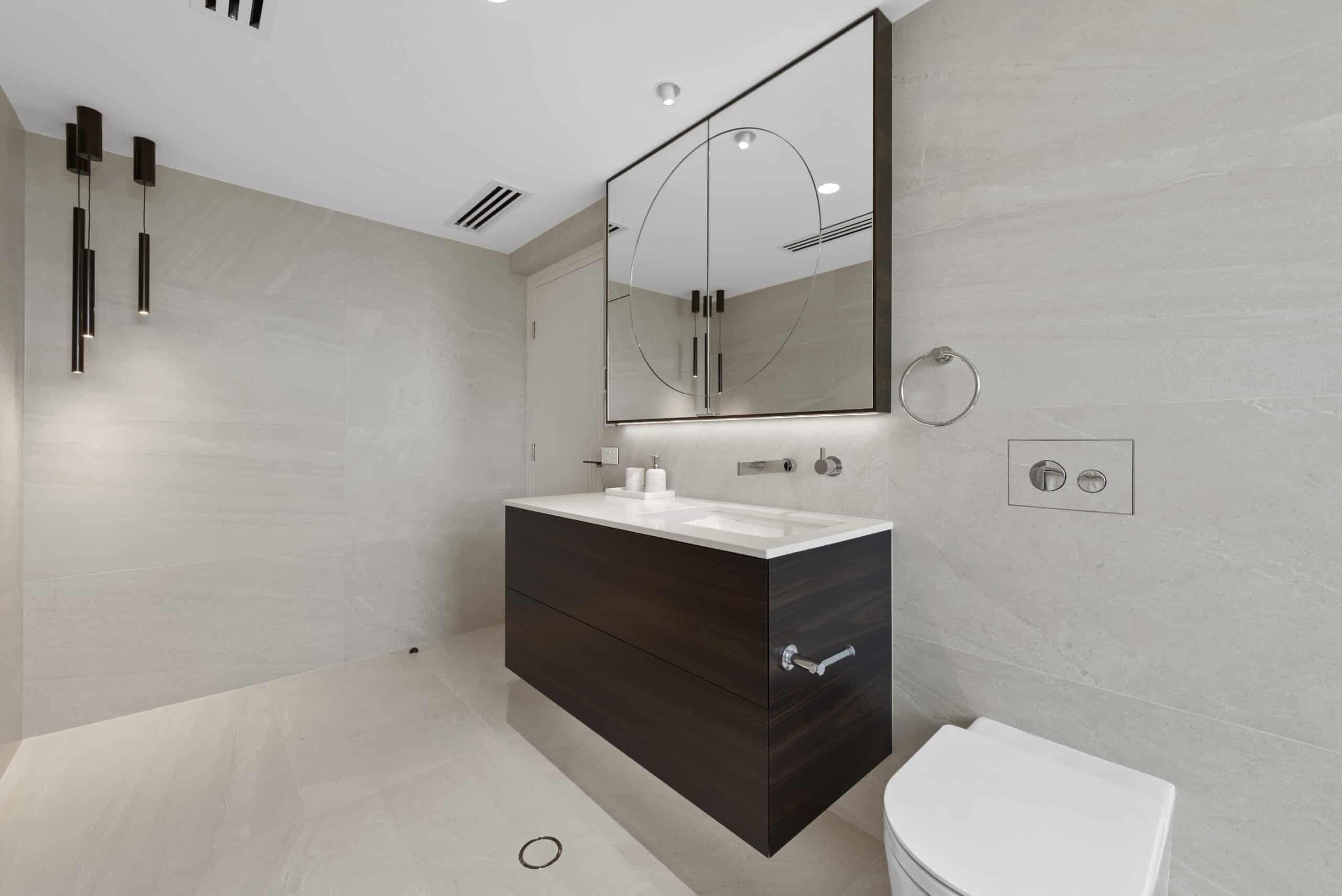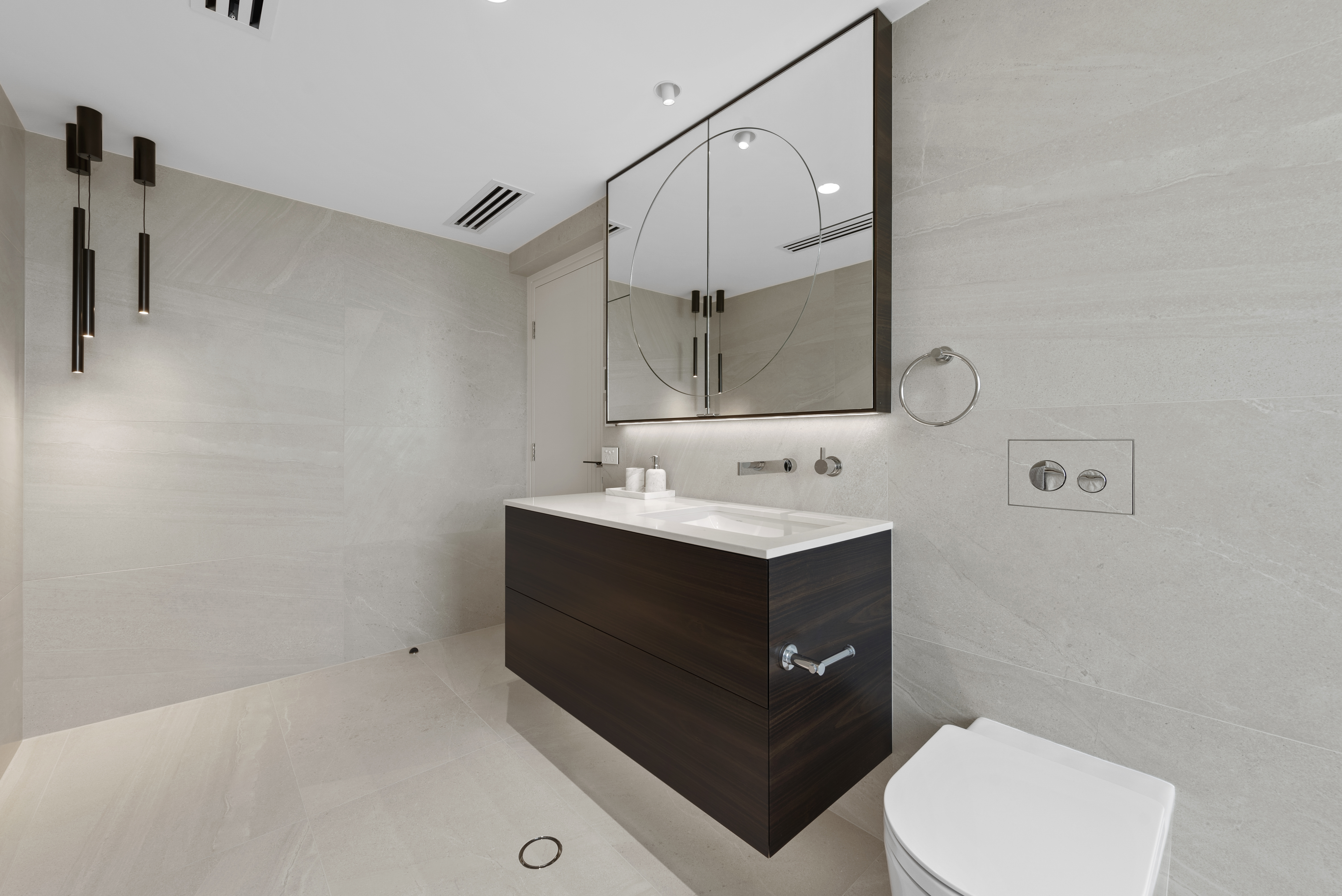 Ensuring a smooth apartment renovation process
We try our best to make your luxury apartment renovation as smooth as possible. While some disruption is par for the course, we can do our best to minimise it by asking a few fundamental questions before the work begins. For apartment renovations, the following considerations are helpful to know ahead of time:
Is there on-site parking, and is it available for contractors and delivery drivers (e.g. those delivering materials, appliances, supplies, etc.)?

Do we need to apply for traffic control for deliveries?

Do we have lift access (specifically, the goods and services lift if your building has one)?

Can we get exclusive lift access for certain times?

Where should the apartment renovation waste go?

What are the hours of operation in your building?

If mains water needs to be turned off, where is the access point (and who needs to be notified)?
Having answers to these questions helps us create a more accurate project plan, speeding up your apartment renovation and helping to avoid delays when the work begins on site.
Minimising disruption
Apartment renovations can get quite loud, especially for your neighbours. We always try to be as considerate as possible, but we also suggest giving your neighbours plenty of warning ahead of time (both written and verbal usually cover all bases). This also notifies people that contractors and Lux Interiors staff will be coming and going and potentially using the on-site parking and elevators.
As always, we will treat your home with utmost respect and care. We try to keep the apartment as tidy as possible—albeit with the need to leave some building materials and dust sheets in place. We will keep you informed of our progress, communicate openly throughout the process, and are always happy to answer any questions you may have during the process.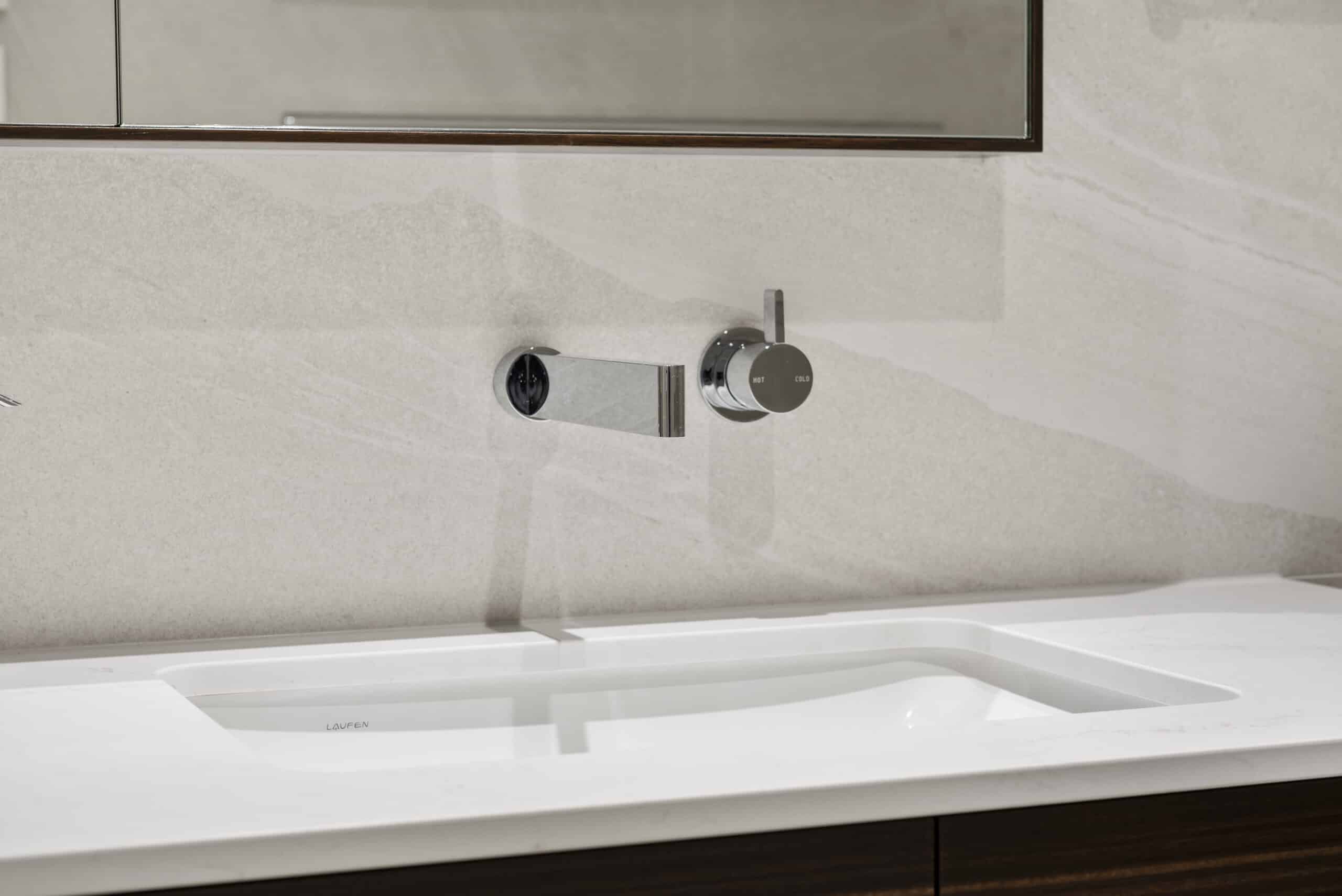 Get In Touch
If you would like to transform your apartment contact us today.