Kitchen Renovations Perth
Perth's Luxury Kitchen Designers
As Perth's leader in luxury interior design, Lux Interiors has completed many beautiful kitchen renovations across Western Australia. Our custom kitchen designs blend striking detail with seamless functionality, delivering a bespoke solution to maximise the potential of your home. We provide the complete renovation experience under one roof, with our in-house team of interior designers and renovators who offer the skill and knowledge to deliver your vision—regardless of how complex your ideas may be. So, if you're looking to achieve your dream kitchen with quality workmanship and exceptional care throughout the whole process, contact Lux Interiors today.
Maximise the Potential of Your Kitchen
Whether you're hosting friends, cooking for the family, or just hanging out, your kitchen is often the focal point of your home—driving your day-to-day living experience and setting a precedent for the rest of the house. As a result, any kitchen design must harmoniously pair form with function. Its colours, textures, and used space should be balanced and considered.
The use of quality materials and close attention to detail should elevate your home's key features—while its use of quality products should complement your decor. With so much flexibility, your bespoke kitchen can fit seamlessly with your existing interior design or act as a foundation for further home upgrades—perhaps bathroom renovations or laundry renovations. Regardless of your motivation, Lux Interiors can bring your design preferences to life, maximising your space's potential and daily life.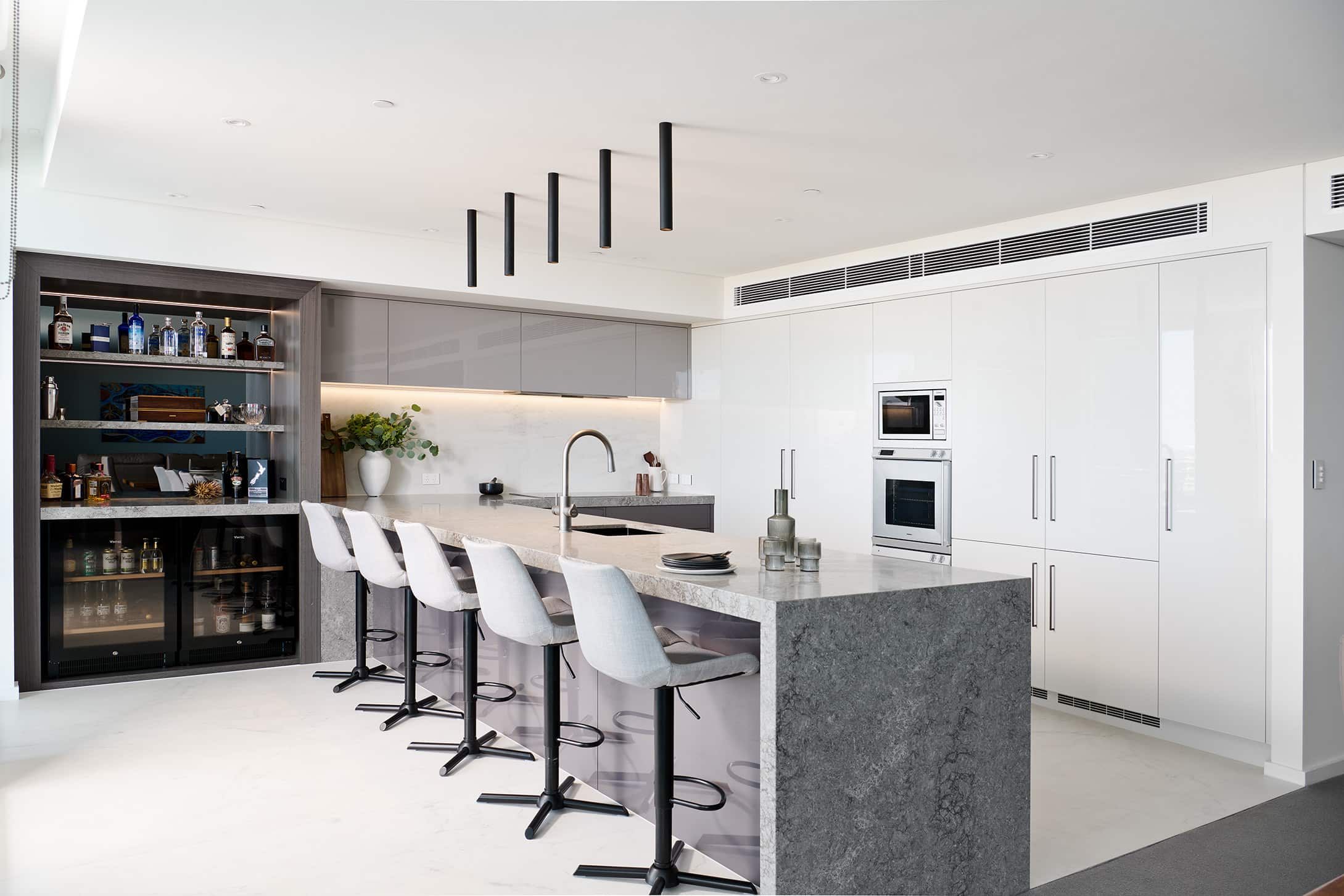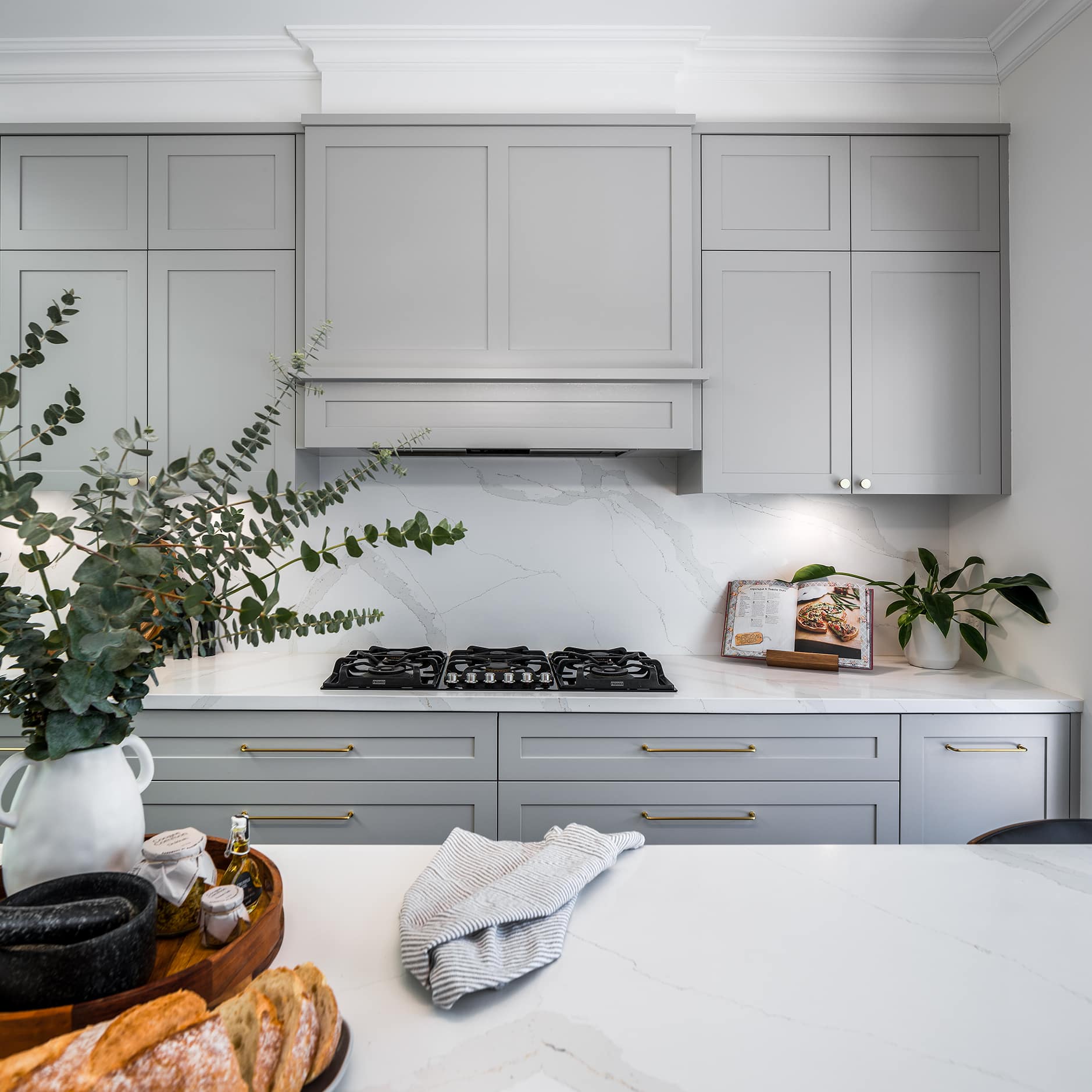 Why Choose Lux Interiors For Your Next Kitchen Renovation?
A kitchen renovation is more than just another project for our portfolio, it's about providing exceptional service to help our clients achieve their dream kitchen. We're inspired by kitchen renovations comprised of beautiful detail, which is why we refine every custom design until the finished product has achieved perfection. Our experienced designers are experts in helping you realise your vision and our skilled renovators are equally focused on ensuring that idea comes to life. Regardless of the size of your new kitchen—whether it's a small space or large—you're treated with care throughout the whole process. We handpick every specialist from all the trades, so you get the best people delivering your renovation project. Our team is committed to doing a fantastic job that exceeds your expectations for what a custom-made kitchen can achieve. That's why—in addition to our competitive pricing and open communication—we offer a 10.5-year structural warranty covering all of our workmanship.
Our Kitchen Design And Renovation Process
Your dream kitchen begins with an initial consultation in your home—giving our designers a chance to understand your existing space and for you to share your vision and inspirations. We will start formulating ideas with a clear understanding of what you'd like to achieve. Through initial kitchen design concepts, we'll explore different creative approaches to complete your design inspiration while finding a balance with the rest of your living space. Once we've tested and refined different concepts, we'll provide a thorough proposal outlining each design aspect. We'll specify the options for lighting fixtures, bench-tops, cabinets, appliances and more—with their associated costs—so you'll have a thorough understanding of your renovation.
Poor quality, unsustainable, budget kitchen renovations aren't our thing. Instead, we align ourselves with reputable and responsible manufacturers, selecting products and materials for their environmental rating, aesthetic quality, and durability—ensuring your new kitchen space is timeless, sustainable, efficient, and beautiful. Once approved, we'll begin construction. During this time you can either stay at home or leave the premises while the work is carried out. Having completed many luxury kitchen renovations across Perth, our refined process and close collaboration between designers and craftsmen means we can complete your renovation in just eight months. That's why Lux Interiors is the Perth kitchen renovation company of choice.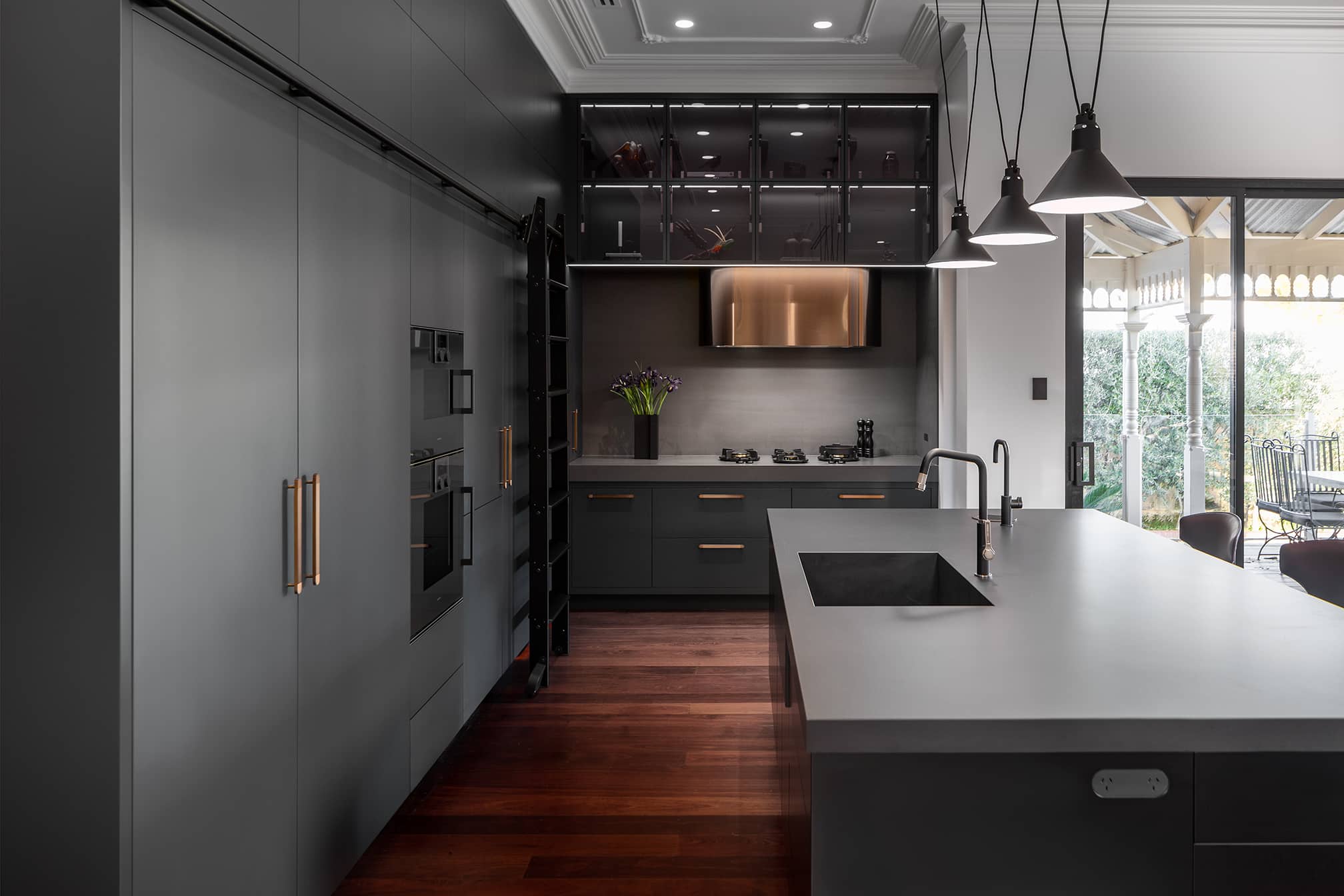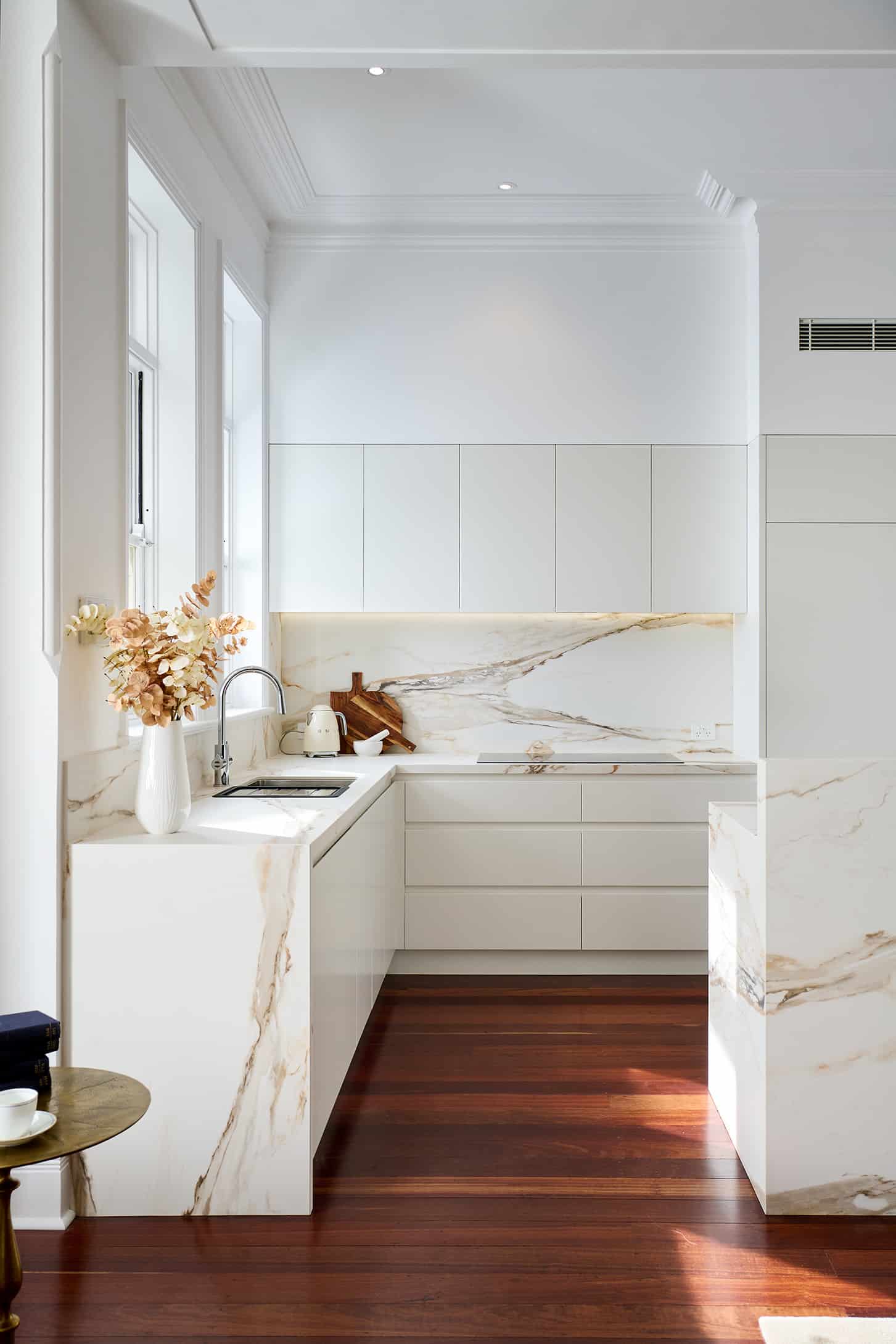 PRE-DESIGN
Initial Design Consult –

30-minute chat to determine your scope and discuss your budget.

Design Fee Proposal

– includes a project scope outline, an assessed budget and the design fee.

Approval

– you approve the online proposal, receive your design fee invoice by email and make payment. 
PROGRAMMING
Schedule

– we develop a project schedule to guide the kitchen design process.

Budget

– we develop a detailed budget that guides the design process to ensure we reach our targets. 

Site Analysis

– we visit your home to take critical measurements, capture photos and discuss your brief further.
DEVELOPMENT
Schematics

– we develop a layout for your kitchen renovation based on your brief. We present the layout for your feedback and approval.

Style Analysis

– in collaboration we define the style and aesthetic for your project.

Concept

–

we develop concepts for each area of your renovation. These are presented online as a 3D white box model.

Selections –

we guide you to select all the necessary fixtures, fittings and finishes for your project.
DOCUMENTATION
Working Drawings

– our documentation is thorough and accounts for all requirements for your renovation.

Specification Schedule

– this document records all the necessary information needed for ordering and installation. 

3D Images

– we provide photo-realistic renders of the major areas of your kitchen renovation so you know what to expect.

Approvals

– we arrange for all necessary approvals – council, strata & engineering.
PROJECT ADMIN
Pricing

– we send off and collate all the necessary pricing for your renovation. 

Renovation Contract –

our build team develops a fixed-price contract for your project.

Approval

– once you've approved the contract we set up a meeting to schedule your renovation and sign the contract. 
KITCHEN RENOVATION
Demo and Strip out

– walls, doors, windows, cabinetry, flooring, fittings & fixtures

Building Modifications

– new walls, nib & niches, wall linings, ceilings, windows & doors

Install New Materials

– flooring, painting, cabinetry, plumbing & electrics,

Furniture Installation –

ordered furniture placed and styled. 

Clean

– thorough cleaning of all surfaces.

Handover

– thorough check of your renovation by your kitchen designer & builder.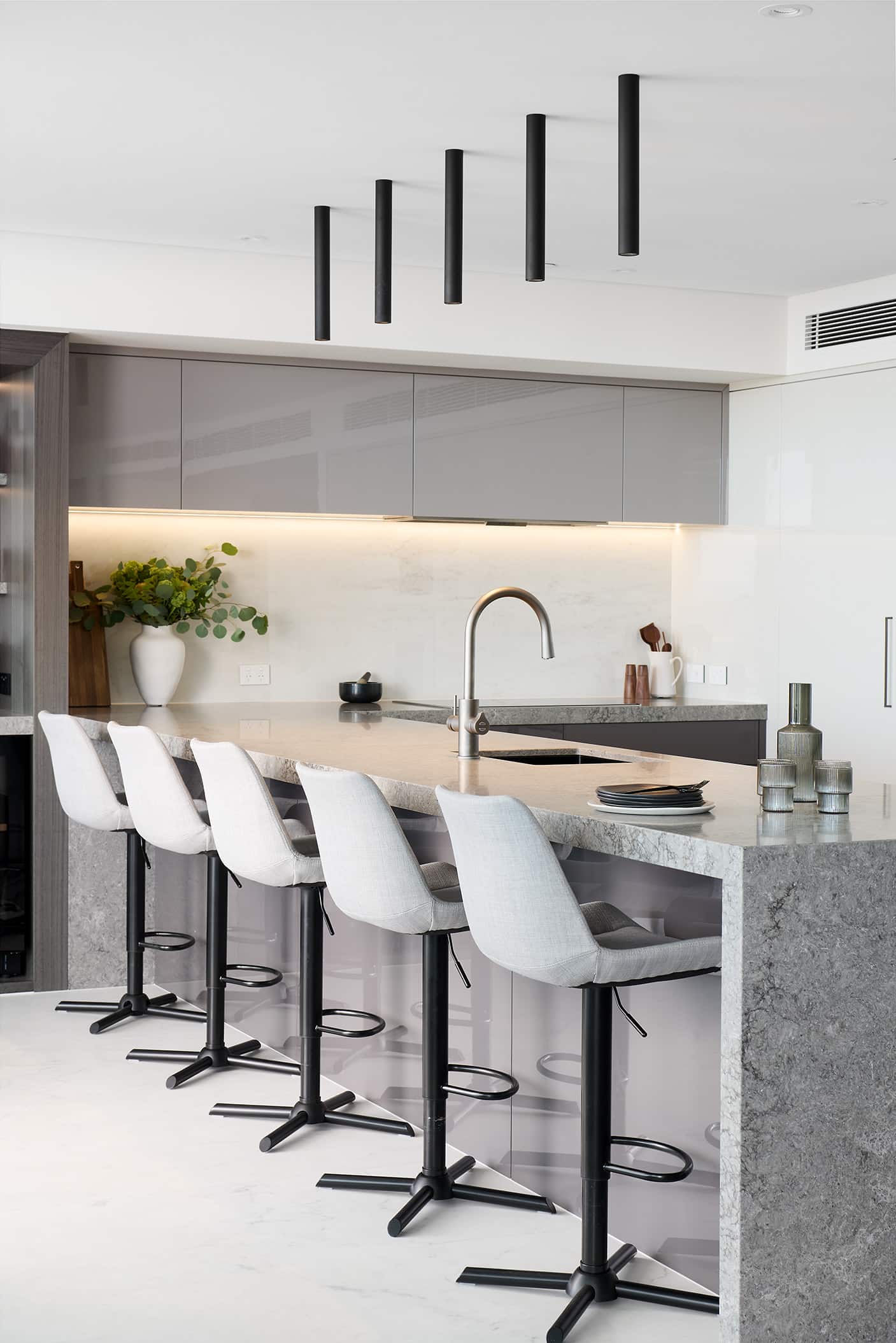 Bring the Heart of Your Home to Life
It can be hard to visualise your new kitchen layout and design. As part of our service, your qualified interior designer will provide realistic 3D-renders of your kitchen design which allows you to see how it will all come together, prior to any major works being commenced. From drawer runners to colour schemes, kick boards to kitchen island finishes, our attention to detail is second to none. Whether you want an open layout with open shelving or need more storage space and kitchen cabinets, we give you the option to review every aspect of the new design. Our trusted network of suppliers will then source materials of the highest standard to bring your vision for your kitchen to life.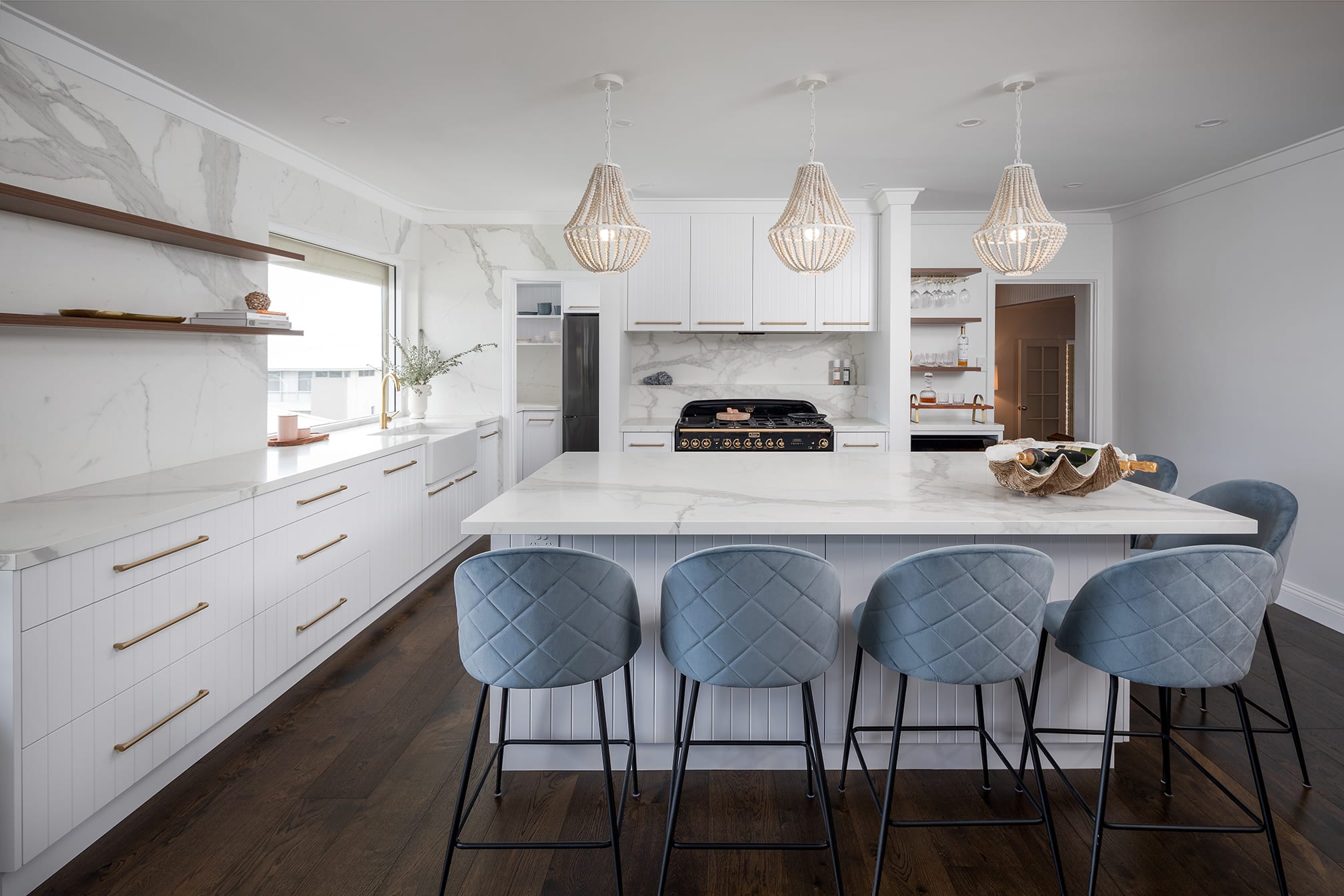 Frequently Asked Questions About Our Kitchen Renovations
How Long Does A Kitchen Renovation Typically Take?
We can perform the entire renovation process—from design to completion—within 6-9 months.
For all of our projects, whether kitchen and bathroom renovations, laundry renovations, or any other custom build, we pride ourselves on working efficiently to produce exceptional outcomes for Perth families.
How Much Does A Kitchen Renovation Cost?
The cost of a kitchen renovation depends on its size and specifications. With such a vast range of variables, there's no single figure we can quote here to answer that question.
During the programming stage of the  design process our interior designer will discuss your requirements and determine an assessed budget for your project. This budget will be used to guide your design. On completion of your design, your project will be priced and a contract create for your renovation.
Will Someone Manage/Oversee My Kitchen Renovation?
Yes. We understand having your kitchen renovated can be daunting, which is why you will have a dedicated designer who will oversee the whole process. Throughout your renovation project, your builder will be your project manager.
Is My Kitchen Renovation Covered By Warranty?
Yes. As a fully licensed and qualified builder, every custom kitchen renovation and installation comes with a 10.5-year structural warranty. This covers all of our workmanship.
So, when it comes to achieving a new kitchen, custom-designed with quality products and quality materials by a talented designer —and built by the best trades in the Perth building industry—there's only one company to call: Lux Interiors.
See Our Kitchen Renovation Portfolio
GET IN TOUCH
For the opportunity to fulfil your vision, contact Lux Interiors today.