Elegant & Timeless Designs
We understand that your bathroom is a private, intimate sanctuary, which is why our entire renovation process is personalised to your taste—and your budget. Customer satisfaction drives every aspect of our professional service. If you're looking for a new bathroom design, as part of a full home renovation or otherwise, contact the renovation team at Lux Interiors – the Perth bathroom renovations specialists – today.
Our Approach To Bathroom Renovation & Design
"70% of domestic insurance claims are for faulty workmanship that results in water damage. No one should have to worry about that when having their bathroom redone."
With the above statistic in mind, we made it our prerogative to change the face of the industry by creating the perfect leak-proof bathroom solutions. After extensive testing, research and trials, we are pleased to say we have achieved this mission and continue to do so for every bathroom project we work on. Your experience throughout your bathroom renovation journey is as important to us as the quality of the finished product. We believe in open communication at all stages of the process and will provide you with an app that gives you real-time updates on the status of your renovation projects. By engaging Perth's finest craftsmen who share our unrelenting desire for perfection, we are able to confidently and consistently deliver a stunning renovation that seamlessly blends form with function. And, because our entire team is invested in the whole process, we're able to deliver your next bathroom renovation in a cost-effective, stress-free, and timely manner.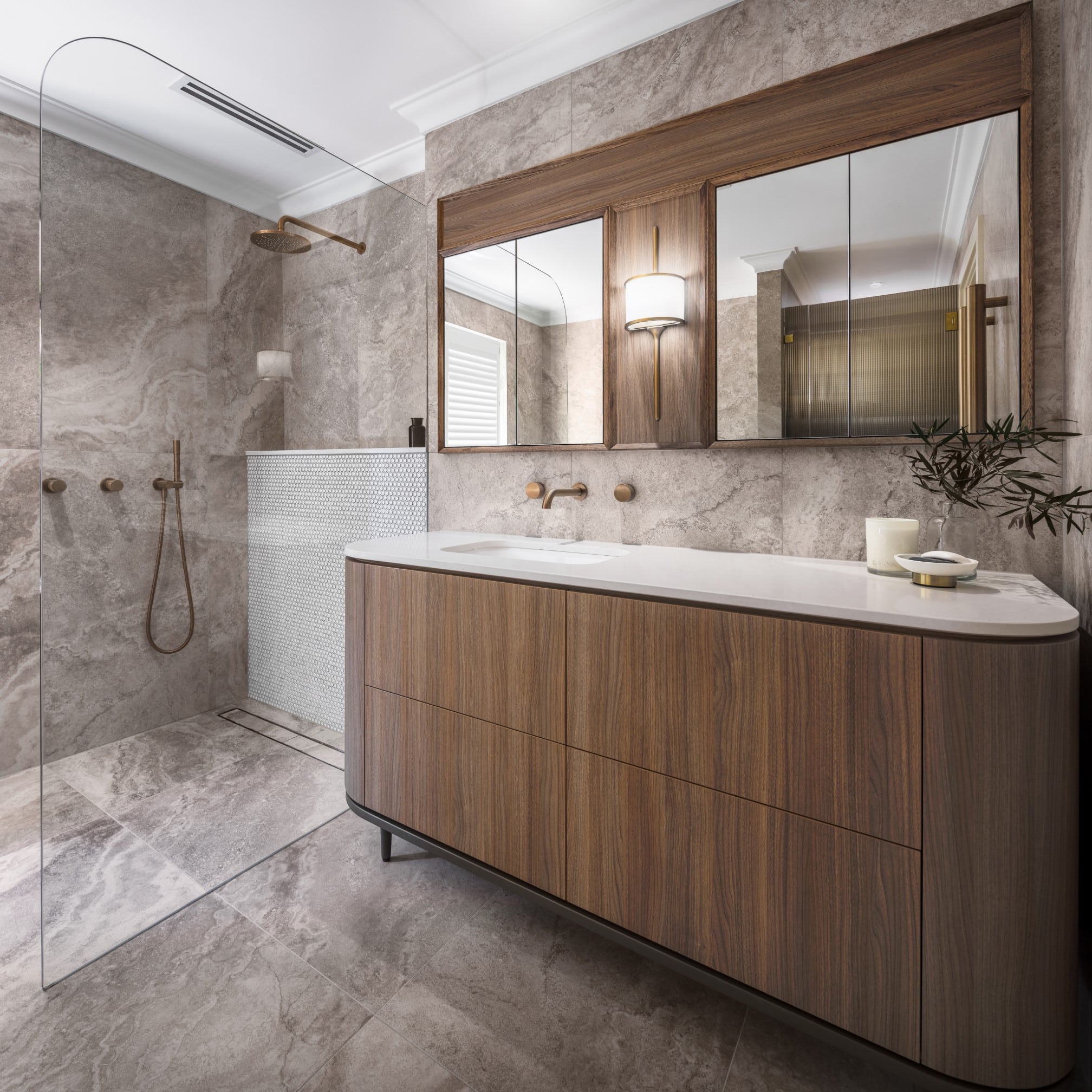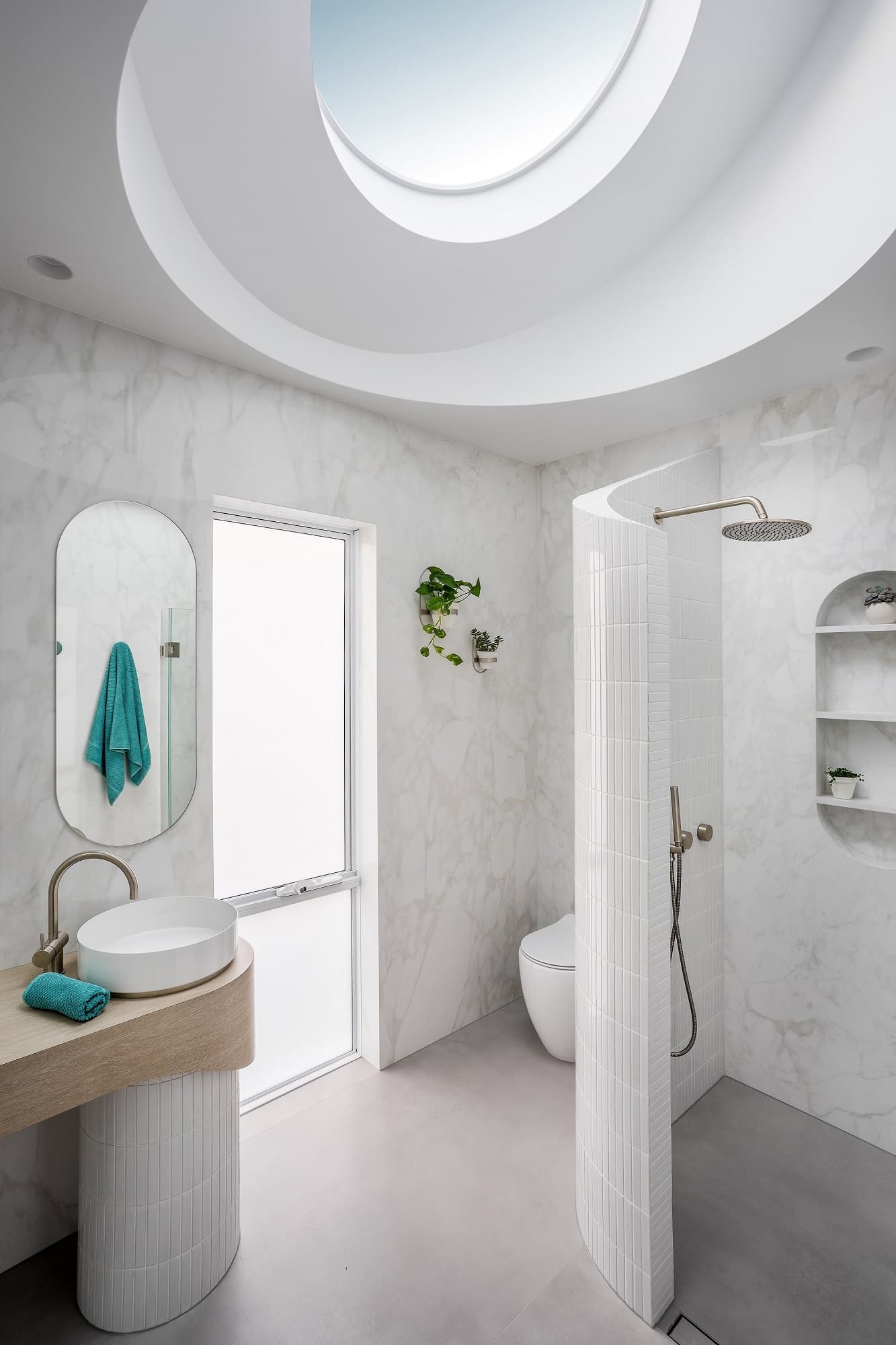 Our Design and Renovation Process
The whole design and renovation process is completed in 6-8 months, with the renovation phase completed in ~6 weeks.
PRE-DESIGN
Initial Design Consult –

30-minute chat to determine your scope and discuss your budget.

Design Fee Proposal

– includes a project scope outline, an assessed budget and the design fee.

Approval – you approve the online proposal, receive your design fee invoice by email and make payment.
PROGRAMMING
Schedule

– we develop a project schedule to guide the bathroom design process.

Budget

– we develop a detailed budget that guides the design process to ensure we reach our targets.

Site Analysis – we visit your home to take critical measurements, capture photos and discuss your brief further.
DEVELOPMENT
Schematics

– we develop a layout for your bathroom renovation based on your brief. We present the layout for your feedback and approval.

Style Analysis

– in collaboration we define the style and aesthetic for your project.

Concept

–

we develop concepts for each area of your renovation. These are presented online as a 3D white box model.

Selections – we guide you to select all the necessary fixtures, fittings and finishes for your project.
DOCUMENTATION
Working Drawings

– our documentation is thorough and accounts for all requirements for your renovation.

Specification Schedule

– this document records all the necessary information needed for ordering and installation. 

3D Images

– we provide photo-realistic renders of the major areas of your bathroom renovation so you know what to expect.

Approvals

– we arrange for all necessary approvals – council, strata & engineering.
PROJECT ADMIN
Pricing

– we send off and collate all the necessary pricing for your renovation. 

Renovation Contract –

our build team develops a fixed-price contract for your project.

Approval – once you've approved the contract we set up a meeting to schedule your renovation and sign the contract.
BATHROOM RENOVATION
Demo and Strip out

– walls, doors, windows, cabinetry, flooring, fittings & fixtures

Building Modifications

– new walls, nib & niches, wall linings, ceilings, windows & doors

Install New Materials

– flooring, painting, cabinetry, plumbing & electrics,

Furniture Installation –

ordered furniture placed and styled. 

Clean

– thorough cleaning of all surfaces.

Handover – thorough check of your renovation by designer & builder.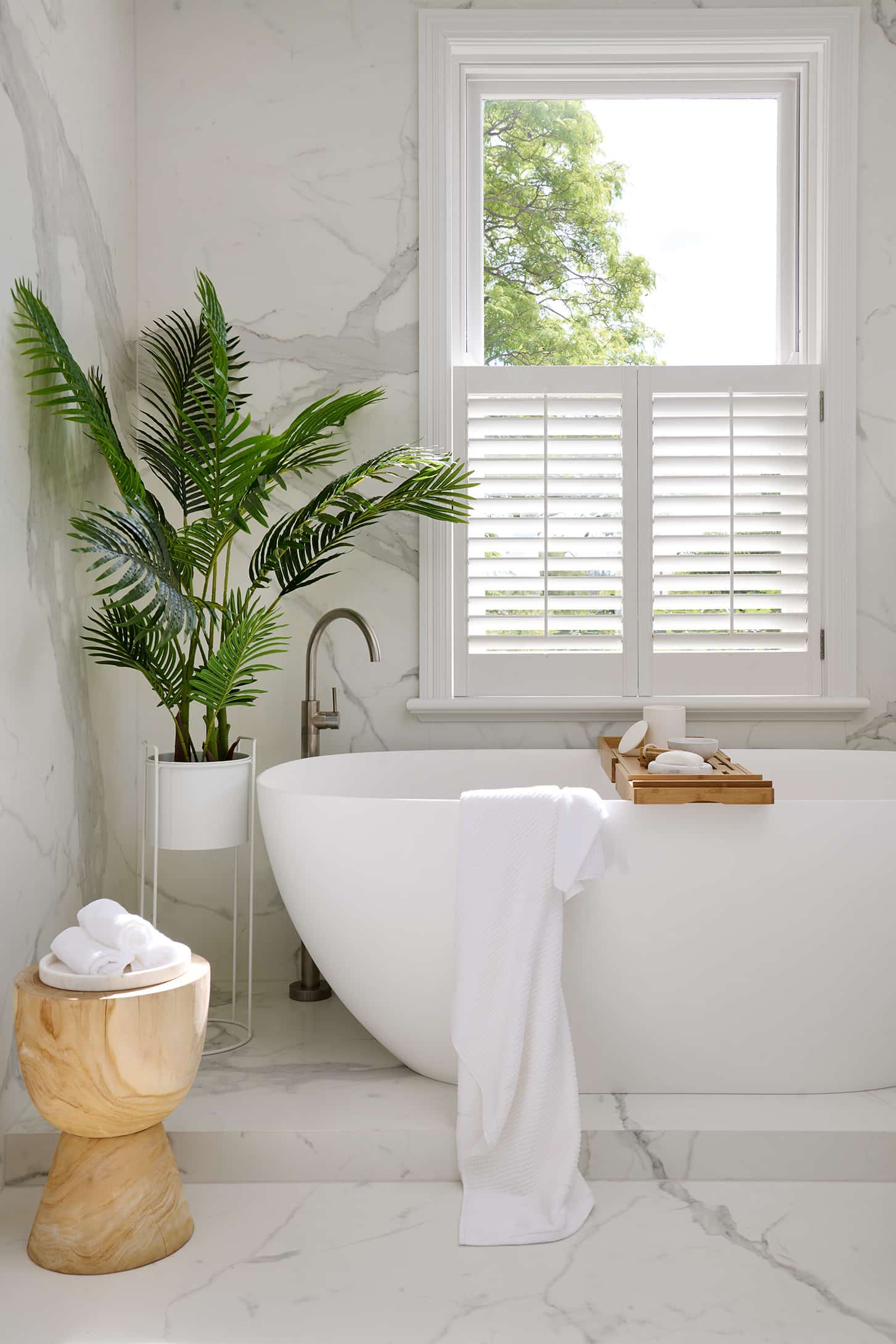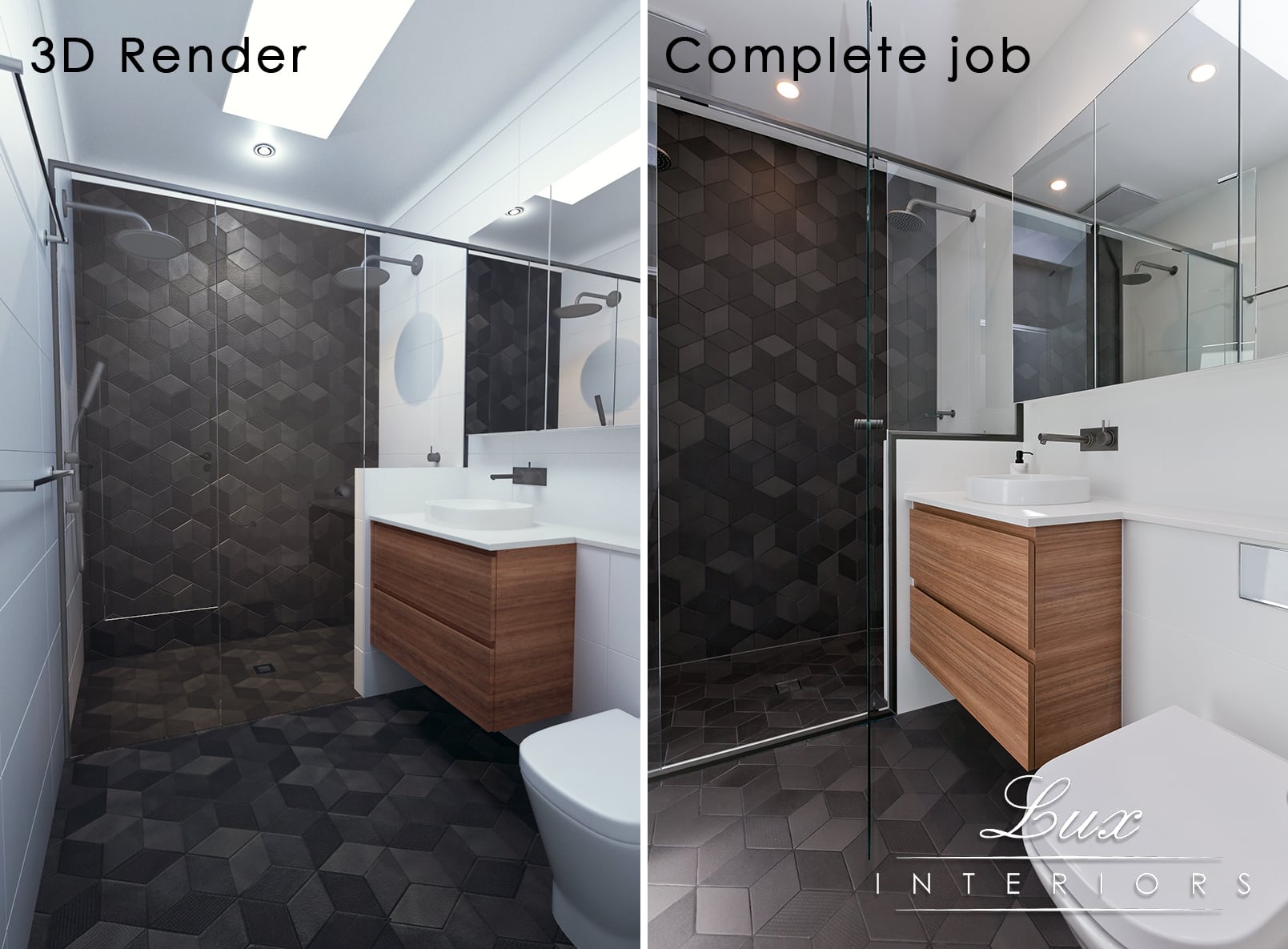 Visualising Your Dreams
Whether it's a main bathroom or ensuite bathroom renovation; or a series of complete bathroom overhauls throughout the whole house, our goal is always to deliver a first-class, professional service.
We understand every space and every client is unique, so while this means the end result varies from project to project, it gives you the opportunity to achieve your perfect bathroom—right down to the finishing touches. Throughout the process, we'll visualise your new layout to show you how your selections will work within the space. As part of our service, our designers can provide you with rendered, photo-realistic 3D images of your bathroom. From tiles to toilets, we will guide you to determine whether the quality products in your new bathroom renovation meet your needs.
Why Now Is The Perfect Time For Your Bathroom Renovation
There's never been a better time to renovate your bathroom. With over two decades of industry experience, the team at Lux Interiors can breathe new life into your home, while increasing its property value. Having delivered outstanding service for customers across Perth, the following promise are our guarantee:
From start to finish, you will always be guided through every aspect of the design process.
We will design your interior to be timeless, sustainable, efficient, and beautiful.
We will align ourselves with reputable and responsible manufacturers.
Guarding your privacy and personal space is paramount.
We will select products and materials for their environmental rating, aesthetic quality, and durability.
We are mindful of our impact on the environment, and do everything in our power to minimise it.
We back the quality of our bathroom renovations with our 10.5-year warranty on workmanship.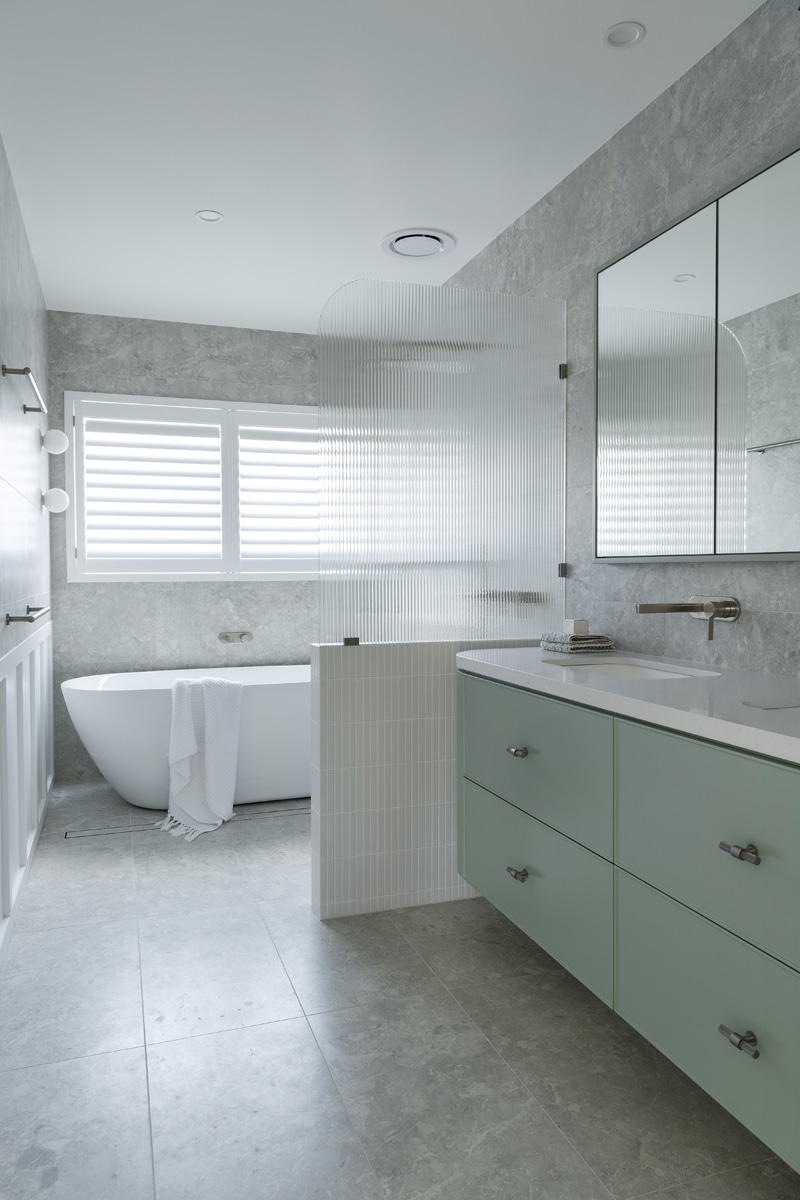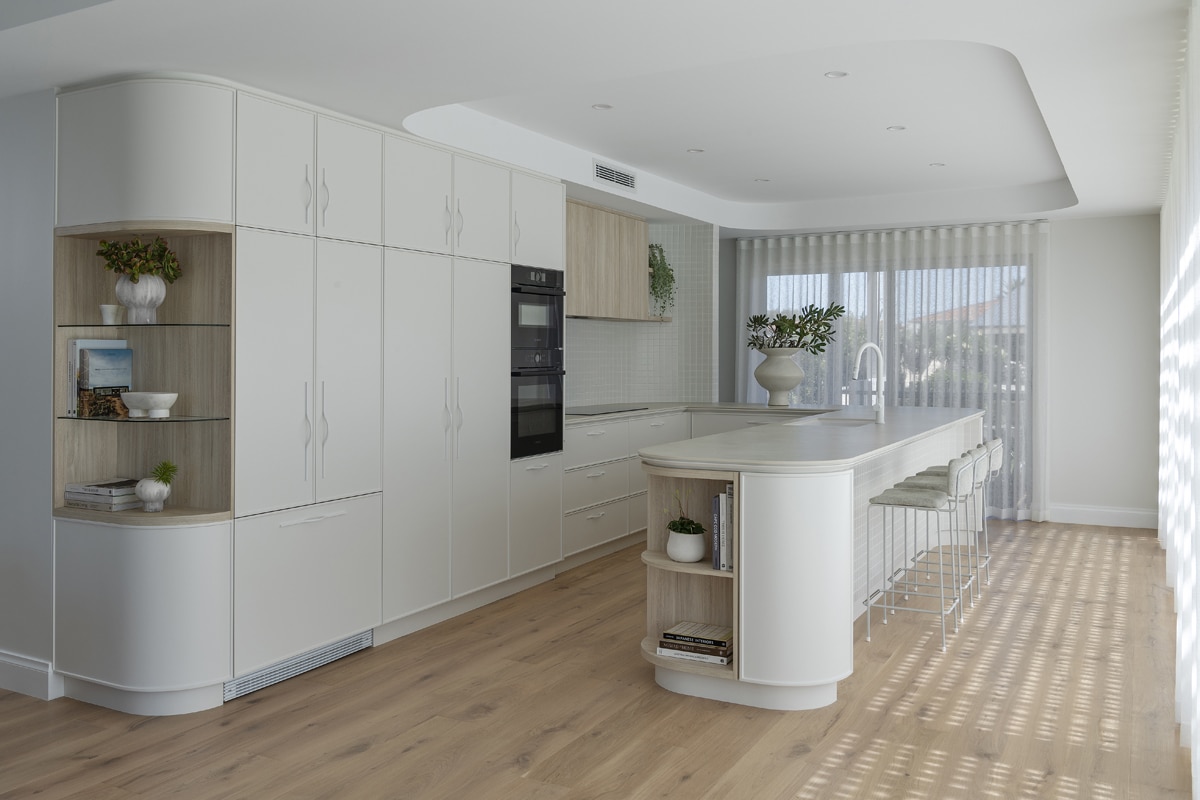 Interested in other renovations?
While we built our reputation for doing an amazing job as bathroom renovators, we also deliver first-class customer satisfaction for renovating other rooms too. If you're looking for interior designers and master tradespeople to build a stunning kitchen, our expert team has delivered many beautiful kitchen renovations. We also pride ourselves on doing a fantastic job on laundry renovations across Perth too. So, if you're looking for a modern laundry renovation for a dated, underperforming laundry room, or want a stunning new kitchen renovation—contact Lux Interiors today.
See Our Bathroom Portfolio
Lux Interiors is passionate about creating premium renovations that are as luxurious and functional as they are unique. Drawing inspiration from our extensive portfolio and see how we have created some of Perth's most exquisite spaces.
Get In Touch
If you would like to transform your bathroom into a stunning feature within your home, contact us today.