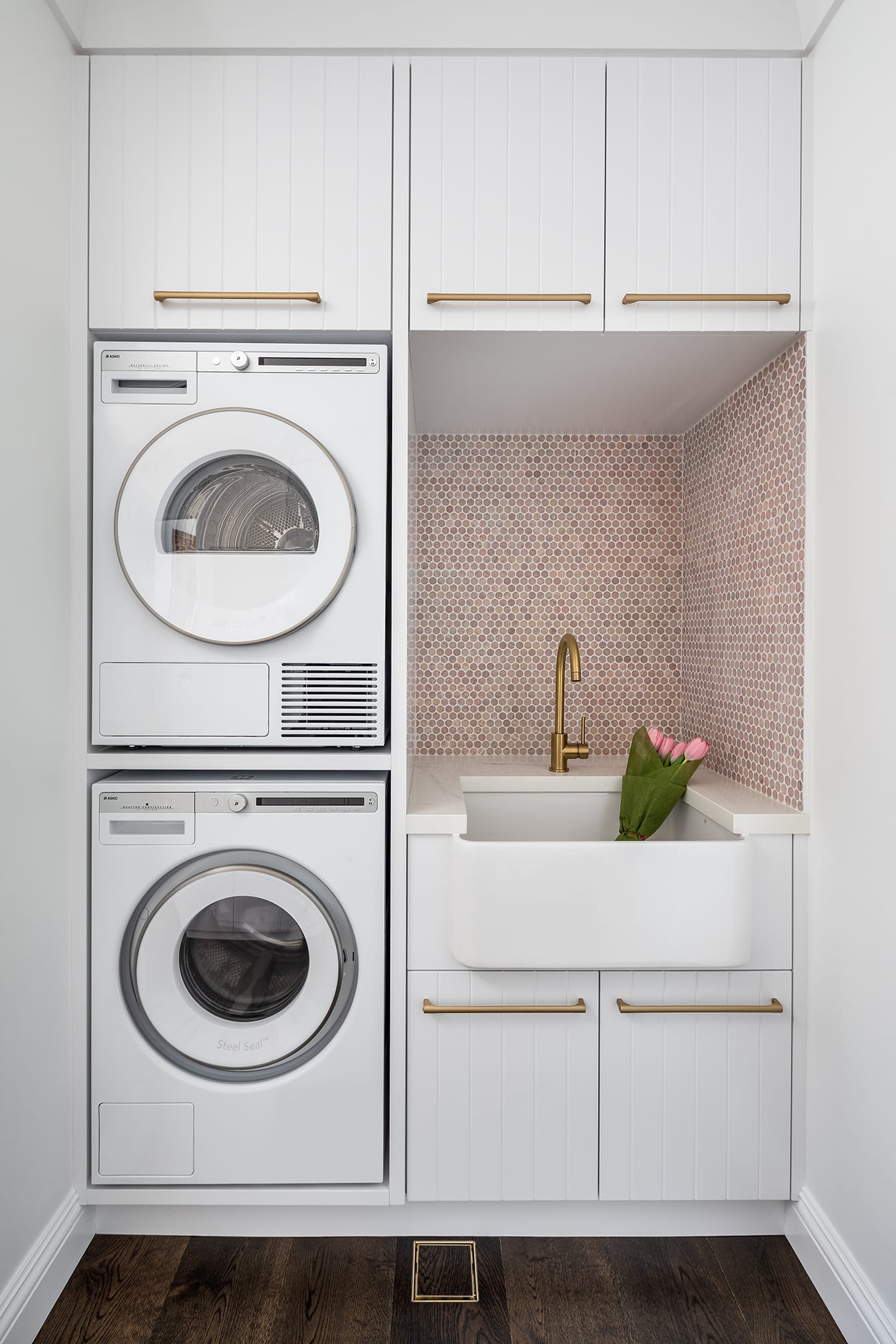 Client Brief
Our clients were in desperate need of storage, bench space and simply more room for their laundry.
Requests:
Lots of storage.
Bench space.
Coastal barn style, that is light and bright with elements of brass and pink tones.
Before
Previously this laundry was more like an open cabinet that hosted the washer and dryer stack, a trough, with no storage or bench space. There was also a separate shower room that was directly across from the laundry cabinet which was never used. With the owner's expanding their family with children and a dog, this was not going to work.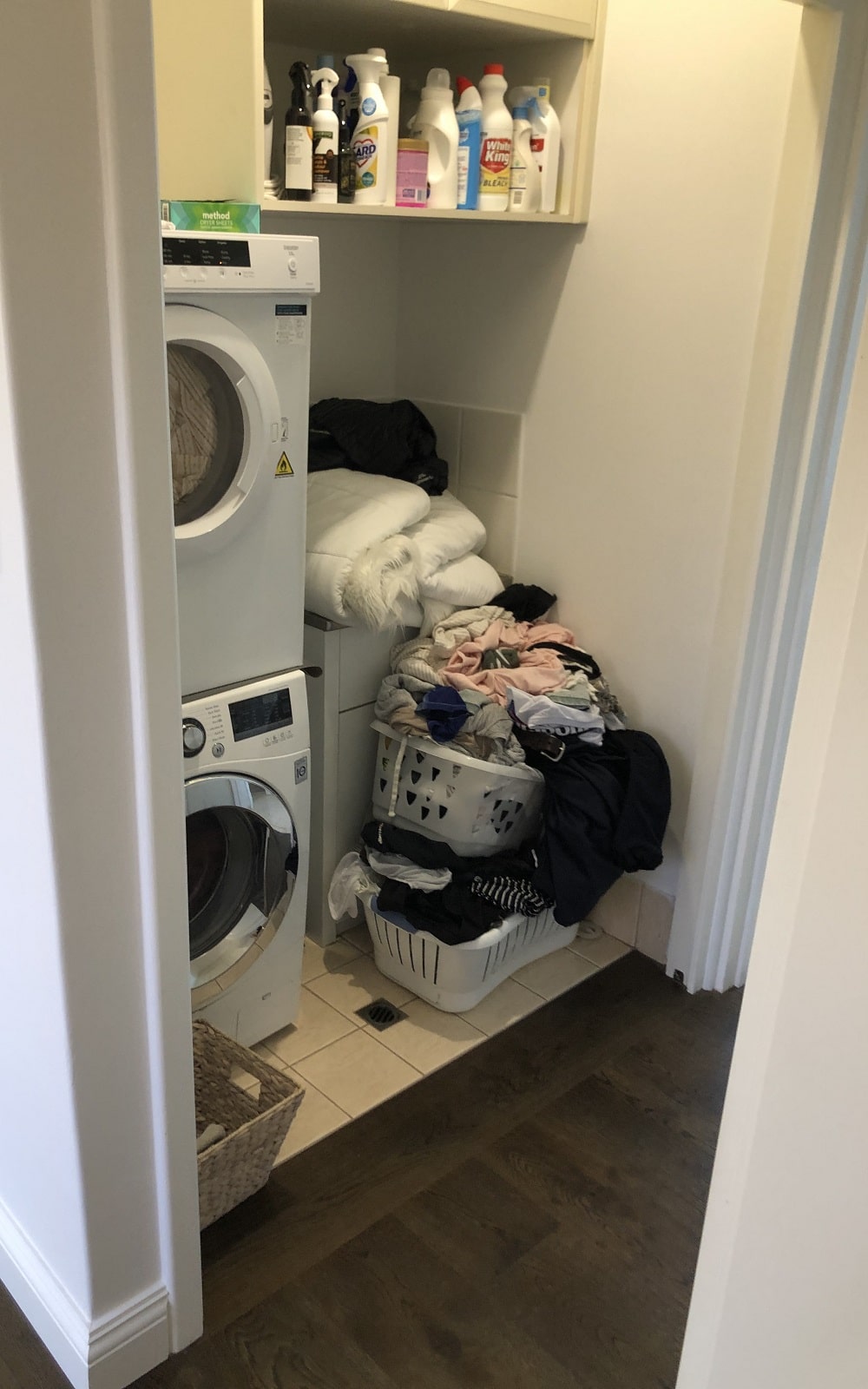 AFTER
Our design created a solution to the lack of storage and non-existent bench space, and while tying it in with the Coastal Barn theme. We removed two internal walls that framed the shower room and turned this space into floor to ceiling storage with bench space and cabinetry. This opened up the space and faced the washer and dryer stack that was now neatly framed with a butler sink, base cabinetry and overhead cabinetry.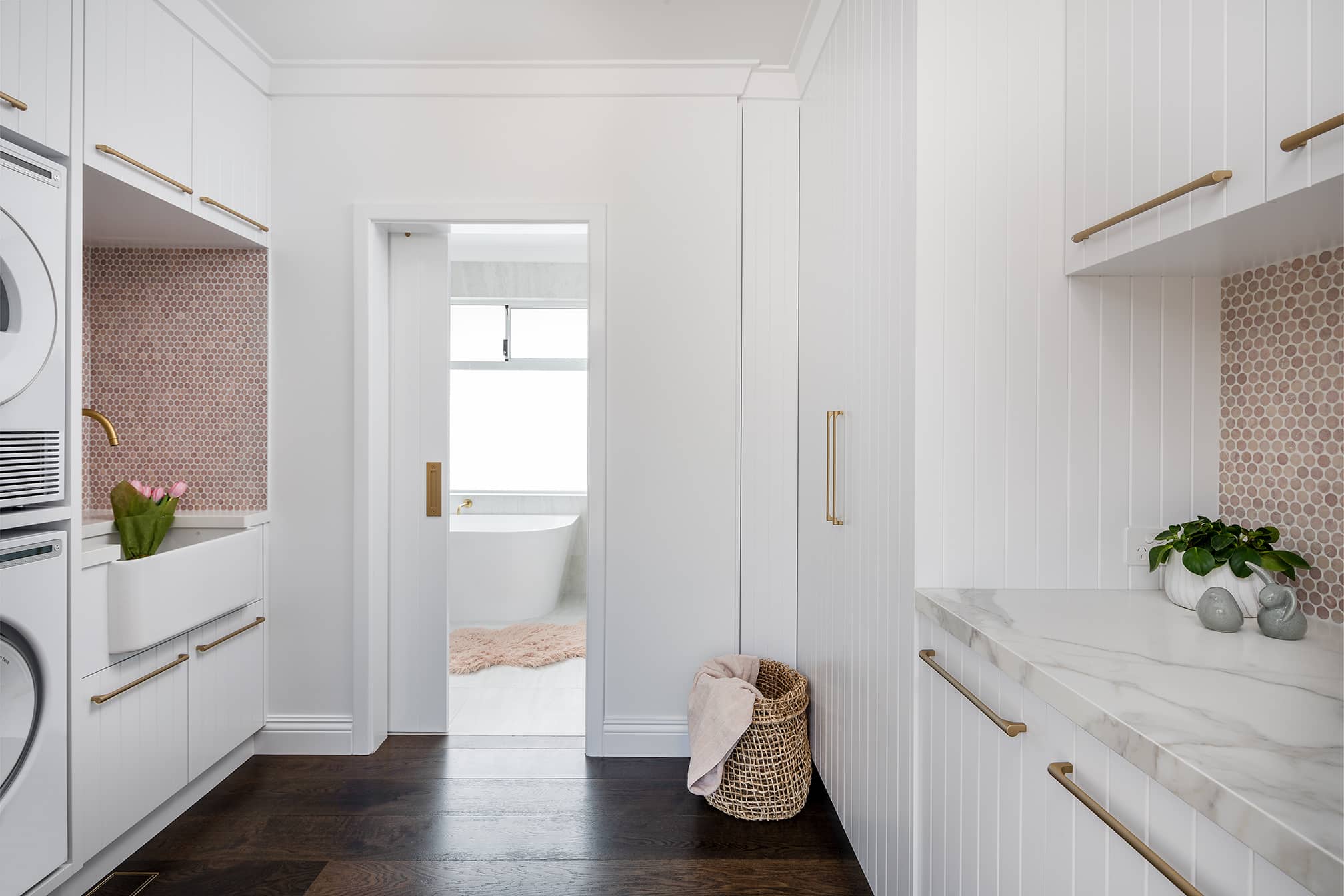 FEATURE TILES
For the materials, we recommended a feature pink penny round mosaic tile with a porcelain marble look benchtop which are complimented by the brass hardware and V Groove panelling. The clean lines and bold framing of this laundry nook makes it feel like a proper laundry space.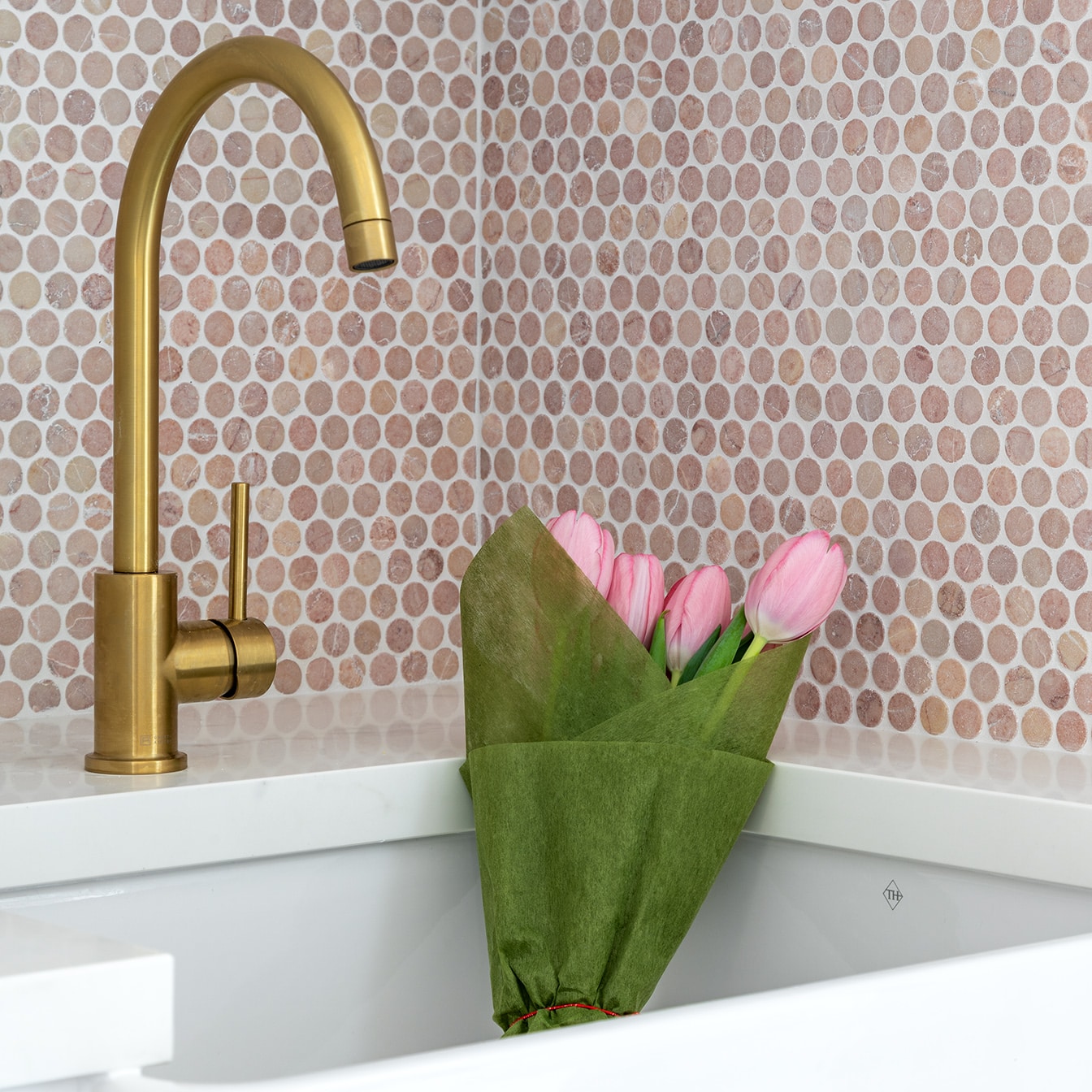 individual laundry room vs. walk-through laundry space
We had considered an individual laundry room, rather than an open walk through laundry however, this would have meant a lot more building modifications and it would have taken away the natural light that flows through this space.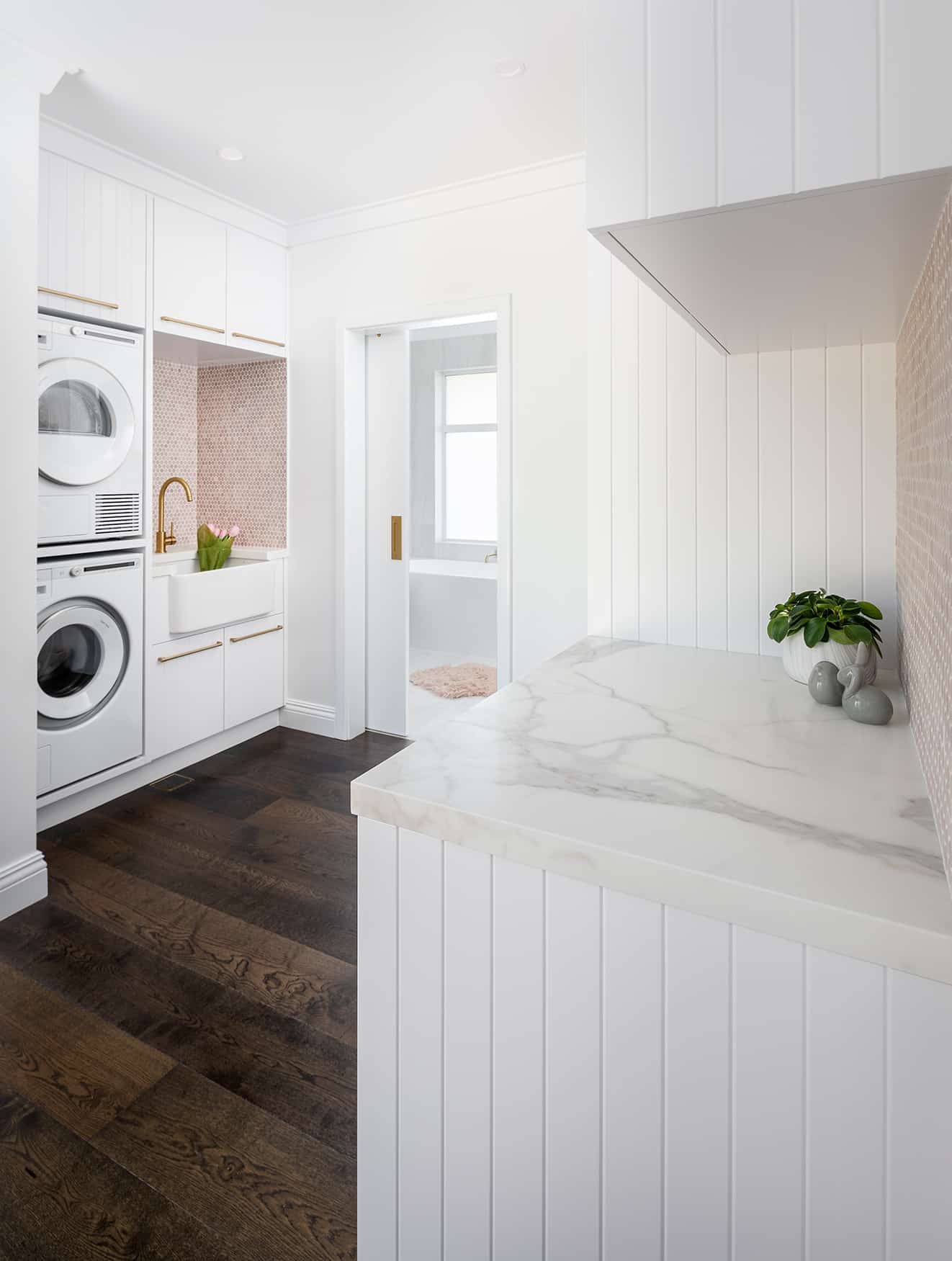 WORKING WITH LARGE APPLIANCES
The appliances that we needed to incorporate included a 10kg washer which is 700mm deep (essentially, an extremely large washer) which meant the cabinetry needed to be 800mm deep. This allowed for extra storage in the under and overhead cabinetry on this wall. Although we extended the cabinetry to be deeper, our design allowed the sink and mixer to still be at the standard depth so that they were easy to reach. To do this, we boxed out behind the sink to bring it all forward.
For the overhead cabinets above the sink, we lined these up with the left hand side overheads above the dryer, this allowed for a larger space above the sink which meant we could fit in a drying rail.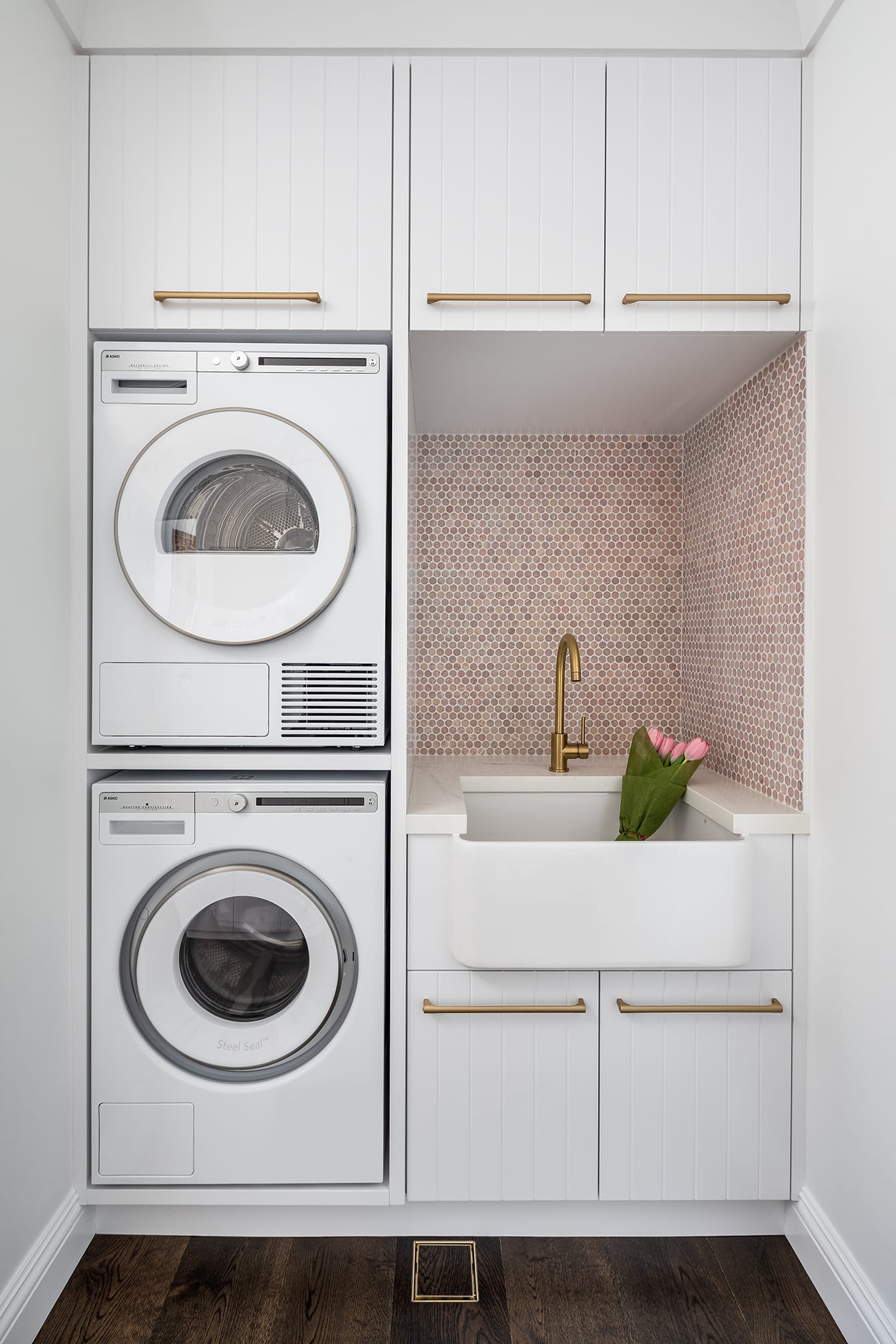 let's talk storage
Directly across from the washer and dryer side is a wall of cabinetry plus more bench space. This includes a hidden cabinet that houses the cordless vacuum with GPOs set inside the cabinetry. This hidden cabinet also helped utilise the corner without it becoming a hard-to-reach area and having to use bifold cabinet doors, which can overtime drop due to the weight on one side.
The next cabinet is a tall open area for tall appliances or cleaning equipment and included an internal divider for the ironing board so that everything doesn't stack up and increase potential to fall. Next to the tall cabinetry is the bench top that hosts a pull out laundry hamper drawer, plus more over head cabinetry.