How a Nib Wall Can Work in Your Bathroom
Traditionally a bricked and tiled half wall, nib walls add separation to enhance privacy, storage and practicality in a bathroom.
At Lux Interiors, we give nib walls an updated and contemporary edge with innovative half wall and angled floor-to-ceiling designs. While traditional nib walls look out-dated and can close in rooms, we've overhauled their design with a Lux Interiors touch. Able to be customised to suit your desired style, our premium nib walls are made bespoke for each bathroom renovation.
Our licensed builders transform design concepts into a reality, constructing nib walls that adhere to strict structural requirements. A challenging and daunting task for most, our professionals push the boundaries to craft nib walls that offer style, solutions and privacy for each bathroom renovation.
Why Include a Nib Wall in Your Bathroom Renovation?
By including a nib wall in your bathroom renovation, you add privacy, storage and practicality without closing off your space. Nib walls are frequently used as a barrier between vanities and showers, closing the hard-to-reach gap that often accumulates dust and dirt.
If used in a shower, half wall and floor-to-ceiling angled walls can be transformed into additional storage in line with the look and feel of your bathroom.
As bathroom design specialists, we can turn nib walls into bathroom features with shelving, art and decorative features. Striking the perfect balance between style and practicality, nib walls offer enhanced privacy and separation in the bathroom.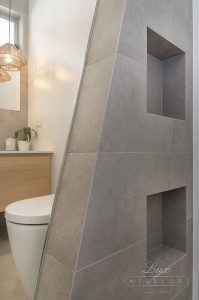 Ideal for Small Apartment Bathroom Renovations
Most apartments and inner city homes lack the luxury of space – so toilets are often placed within bathrooms. If you're renovating a compact apartment or townhouse, nib walls offer unmatched practicality and privacy between your toilet and the rest of your bathroom space.
Able to be transformed into a bathroom feature with storage or decorative elements, nib walls are the perfect way to create separation for showers or toilets. Add space and privacy without compromising on the openness of your bathroom design with a nib wall designed specifically for your space.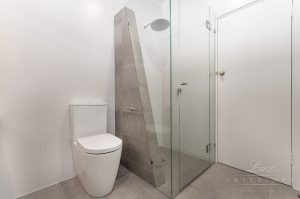 The Lux Interiors Touch
Our recently completed Applecross project is a prime example of how a nib wall adds separation and style to a bathroom renovation. Not only providing privacy and practicality, it also offers two recess shelves for shower storage. Utilising a unique slope design, the nib wall maintains a sense of space and flow in the room.
Without opting for a nib wall, the toilet roll holder would have had to be placed on the back wall, behind the toilet – an uncomfortable and annoying position. Shower storage and shelving would have also been limited. As the shower is situated in the corner of internal walls, a wall recess was unachievable.
At first glance, the only option seemed to be glass shelving drilled into tiles. From our experience, we find that glass shelving is never as durable as recess shelves and also becomes a knocking hazard. By adding a nib wall, we were able to include both a more conveniently placed toilet roll holder as well as recess shelving without compromising on style and design. The angled wall is a truly unique concept that doesn't close in the room.
Design the Bathroom of Your Dreams with Lux Interiors
At Lux Interiors, we specialise in crafting custom bathrooms according to your functionality and aesthetic requirements. We're passionate about providing innovative solutions and concepts to enhance every bathroom layout.
Find out more about adding privacy and style for your next bathroom renovation. Contact us today to chat with our design team on (08) 9344 7607.