When building or renovating consider the use of skylights. More and more homeowners are discovering the benefits. A skylight will brighten a room that is naturally dark, making it feel bigger and brighter. It can also save you money on energy bills and increase the value of your home.
What is a skylight?
A skylight is a window set into the roof which allows sunshine to fill the room. They are an affordable and eco-conscious solution that provide more natural light than traditional windows. But a skylight can also be so much more… a feature that grabs your attention as you enter a room or a window to the stars as you soak in the tub. Their diversity of shape, size, glazing, frame and installation mean that with an experienced, innovative builder the sky really is the limit.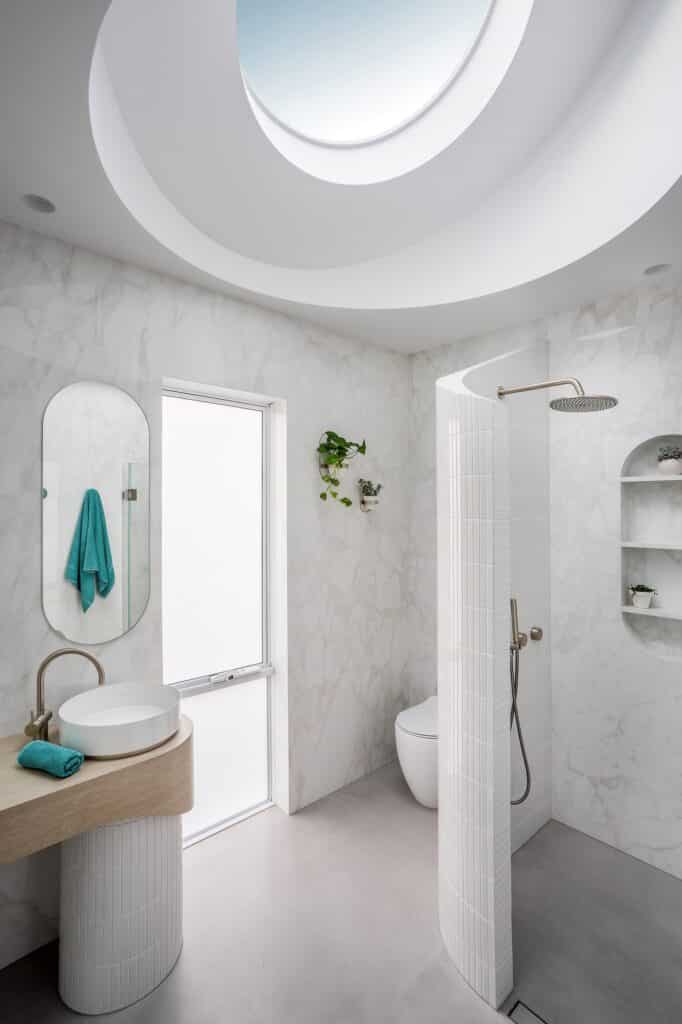 Our custom made curved skylight in our Doubleview project.
Why should I consider a skylight?
Skylights provide up to three times more natural light than vertical windows making any room feel open, bright and larger than it actually is.  They are ideal for darker areas like bathrooms and hallways and can bring a much-needed feeling of space to a small room by illuminating every wall and corner.
A skylight will change the feeling of your home too. Take a moment to think about a room filled with warm sunshine… it's welcoming and energizing. Natural light can reduce stress and anxiety and increase your mood. Which is exactly how you want to feel when you're at home. Studies show that businesses with large amounts of natural light have happier, healthier and more productive employees. And homes that are light and open are more popular with buyers.
Your skylight needn't be a boring square shape either. Lux Interiors love to think outside the square (literally in this case!) and a skylight can be an incredible feature of its own, lifting your attention skyward and turning an otherwise ordinary room into something modern and stylish.
Lastly a skylight is eco-friendly. Extra light provides warmth in winter and reduces your need for artificial light, thus decreasing your energy use.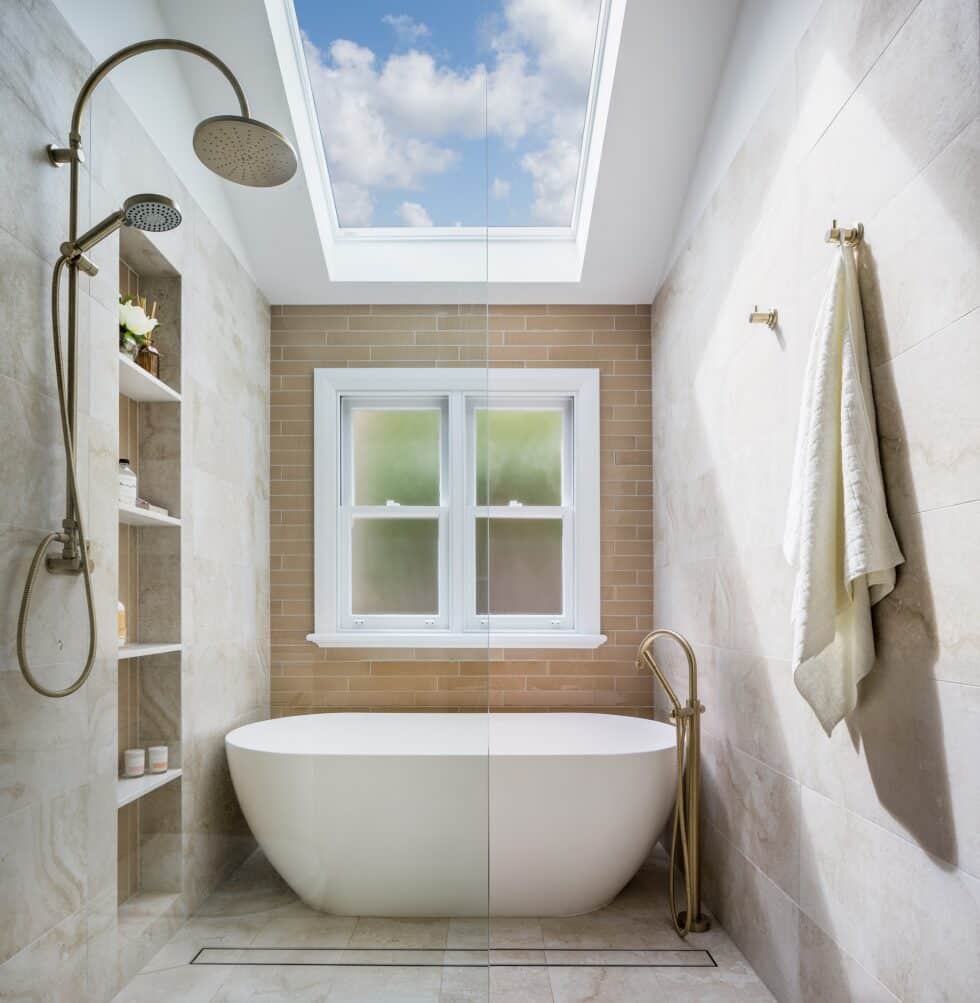 An abundance of light in our Mount Lawley project.
Location, location, location…
Skylight placement is important. They benefit areas that have less natural light. Bathrooms, laundries, hallways, roof cavities and home offices tend to be darker and skylights can offer an ideal solution here.  Skylights come in many shapes and sizes with various glazing and frame options. They can also be custom made to fit your space perfectly.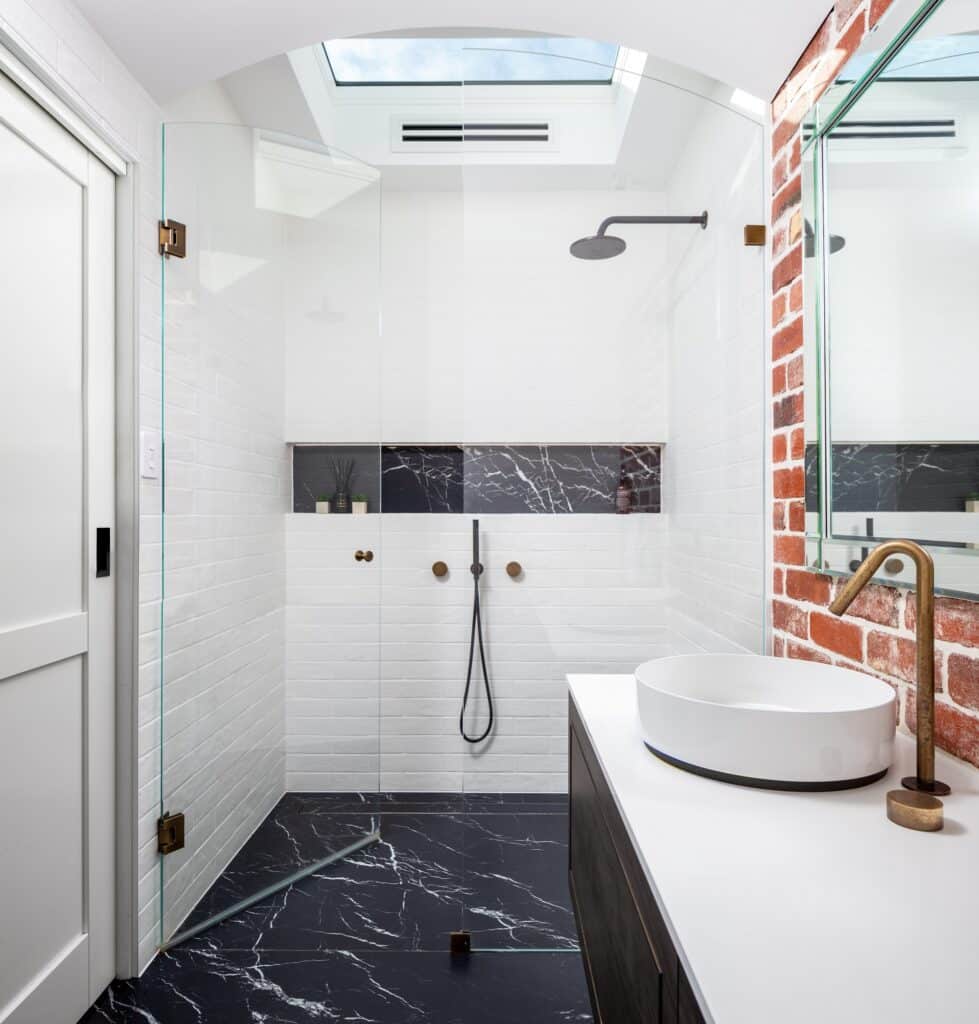 A raised skylight to work in with the raked ceiling in our Innaloo project.
Let the light in!
If you think skylights may be a good option for your home have a chat to us here at Lux Interiors. We have a wealth of experience and passion when it comes to home renovation. Imagine a beautiful feature skylight beaming in the sunshine… the sky really is the limit!
The above video shows the electric Velux skylight opening with the solar honeycomb blinds used in our St James project.